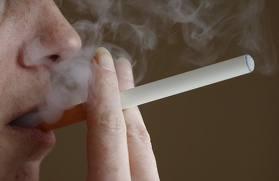 Last week I was enjoying my dinner in a restaurant and to my surprise I noticed a guy smoking next to me. I was furious since we all know how secondhand smoke can be a health hazard for the non-smoker as well. I brought the matter to the manager and he replied: "It's ok ma'am, it's just an e-cigarette and it's allowed." I left the restaurant full of doubts about the legality of smoking these battery-powered devices and decided to investigate them further.
Don't e-cigarettes release chemicals into the air? Are they considered a public hazard?
There seems to be some controversy surrounding the e-cig devices: On one side, you have the proponents of e-cigs who focus on the positive effects as it relates to smoking cessation -- money-saving, odorless, and exhibiting no harmful effects of secondhand smoke. The opponent's side demands more studies and regulations on the potential health risks associated with these chemicals contained in the e-cig device.
A Greek study warned about the dangers of e-cigs because they triggered breathing problems and airway resistance after ten to fifteen minutes of usage.² An American study suggested that e-cigs may hold promise as a smoking-cessation method and that they are worthy of research and further studies.¹
The American Cancer Society quickly dismissed the latter study citing not enough evidence about the efficiency of an e-cig as a smoke cessation tool and lack of scientific evidence about the safety.3
What about the FDA? The FDA has conducted limited laboratory studies and concluded that e-cigarettes pose acute health risks and contain detectable levels of carcinogens and toxic chemicals. They also release aerosols that contain volatile organic compounds and nicotine. This poses a passive vaping risk to those around the vapor. Ah-Ha! Shall we call it secondhand vaping?
For now, e-cigarettes are not FDA approved, but the agency intends to regulate electronic cigarettes and related products. Meanwhile, people can smoke them anywhere they want!
What about the government? Current legal analysis concludes that because e-cigarettes do not contain tobacco, they are not covered under the Smoke Free Air Law, at least not in the state of Michigan. Consequently, businesses may set their own policy banning or allowing the use of e-cigarettes in their establishments -- so based on the information above, the manager of the restaurant was correct in dismissing my request for not allowing "e-smoking" next to my dinner table.
Although we don't have enough conclusive evidence yet about the safety or health risks associated with e-cigs, as a healthcare professional, I ask TheONC to raise more awareness about these battery-operated devices and the inconclusive impact they may have on our patients.
References:
Michael B. Siegel, MD, MPH, Kerry L. Tanwar, BA, Kathleen S. Wood, MPH, Electronic Cigarettes as a Smoking-Cessation Tool. Siegel et al / Am J Prev Med 2011
E-cigarettes Can Damage the Lungs, Experts warn http://www.sciencedaily.com/releases/2012/09/120902113550.htm
E-cigarette study proves nothing http://www.acscan.org/action/ny/updates/1268/