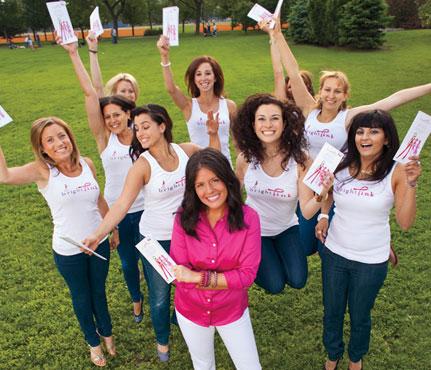 Lindsay Avner lost her grandmother and great-grandmother to breast cancer before being born. At the age of 12, she watched her own mother battle breast and ovarian cancer. After seeing the negative impact cancer had on her family, Lindsay decided to pursue genetic testing at the age of 22.
The test results showed that she carried a mutation of the BRCA 1 gene, highly increasing her chances of developing breast and/or ovarian cancer. At 23 years old, Lindsay became the youngest person in the country to opt for a double mastectomy. Before making this brave choice, Lindsay struggled with the decision and sought out resources for assistance. Lindsay realized that resources were not readily available for women in her situation. With this in mind, Lindsay founded Bright Pink.
Bright Pink is the only national non-profit organization with a focus on prevention and early detection of breast and ovarian cancer in young women -- in addition to high-risk individuals. This organization uses a passionate approach to empower young women to be proactive about their health. Bright Pink's goal is for a better, brighter future with women who have an early detection strategy, and of course, lots of pink!
Bright Pink strongly believes that knowledge is power. Their website is chock-full of information relating to breast and ovarian health, risk factors, hereditary cancer, and expert-led workshops. It includes beneficial sections on high-risk, financial, and legal resources. One of my favorite features on the website are the downloadable Little Bright Books. The Little Bright Books are an educational series featuring titles such as A Guide to Breast and Ovarian Health for Young LGBQ Women. Other website highlights include the opportunity to ask a certified genetic counselor a question or be matched with a PinkPal for one-on-one support.
Bright Pink is one of the country's fastest growing non-profit organizations. Since starting in Chicago in 2007, Bright Pink has spread to several cities and states, which include Boston; Cleveland; Washington, D.C.; Denver; New York; San Antonio; San Francisco; and Vermont.
Interested in volunteering or bringing Bright Pink to your area? Learn more!
Do you work with individuals at high risk for cancer in your practice? Do you think that this non-profit is a good way to get the word out on prevention and early detection?