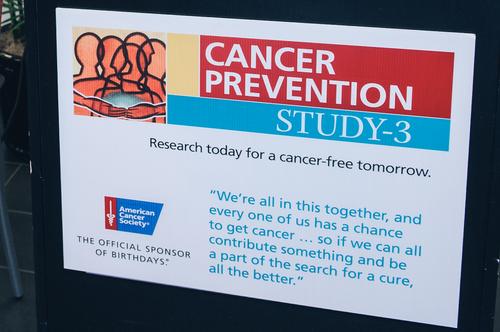 The American Cancer Society is celebrating its 100th birthday this year. ACS reports that 60 years ago only one out of three people diagnosed with cancer survived. Today, two out of three people diagnosed with cancer will survive. The Society is striving to make the survival statistic three out of three.
One of the best ways to prevent cancer is to study it. ACS has been funding cancer research since 1946. In the 1950s, The American Cancer Society began long-term prospective studies. According to ACS, those studies helped tremendously in our battle against cancer. For example, they demonstrated the link between cigarette smoking and lung cancer and the link between obesity and cancer occurrence.
Are you interested in helping create a world with less cancer and more birthdays? If you answered with a resounding "YES!" then consider enrolling in the Cancer Prevention Study-3 (CPS-3) with The American Cancer Society. CPS-3, a research study, is a truly amazing grassroots effort. This study has the objective of targeting at least 300,000 adults from various backgrounds. The goal of CPS-3 is to help us better understand and find different ways to prevent cancer. Isn't that something we all hope for?
CPS-3 is targeting men and women who meet the following requirements:
Be between 30 and 65 years old
Have no personal history of cancer (this does not include basal or squamous cell skin cancer)
Be willing to make a long-term commitment to the study, which will require completing follow-up questionnaires periodically
The American Cancer Society is strongly stressing the importance of having a wide variety of racial and ethnic backgrounds participate in this study. Simply put, you cannot study what you cannot see! According to ACS, CPS-3 is the first of its kind. There is no other study in the US that has enabled researchers to look at such a wide variety of populations.
CPS-3 will take about 20 to 30 minutes of your time. The study will require reading and signing an informed consent form, completing a survey, providing a waist measurement, and providing a small blood sample. After the initial assessment, you will occasionally receive follow-up surveys regarding your health and lifestyle.
To help make history and save lives, consider enrolling in the Cancer Prevention Study-3. You can enroll in CPS-3 by viewing the locations of enrollment in your area, by emailing CPS3@cancer.org, or by calling 1-888-604-5888. Help spread the word so we can celebrate more birthdays!