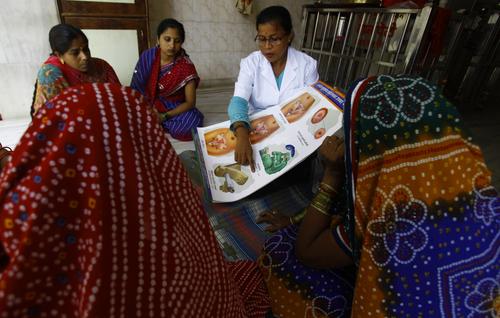 A 12-year randomized study of 150,000 women in India reduced cervical cancer deaths by using a biennial visual inspection with acetic acid (VIA). This study was led by the head of preventative oncology, Surendra Srinivas Shastri, at Tata Memorial Center in Mumbai and cut the death rate from cervical cancer by 31 percent.1 This would mean annually saving the lives of 22,000 women in India and 73,000 worldwide in developing countries.2 The trial was initially slated to end in 2016 but was stopped last year by an independent committee that determined that the success of the technique had been sufficiently established.3
Using vinegar as a low-cost screening tool to detect early signs of cervical cancer protects women in developing countries who do not have access to Pap tests. The test can be administrated by people with only two weeks of training and does not require a laboratory.
The sterilized vinegar is made from combining acetic acid with water, which is not exactly like household vinegar. The study, conducted from 1998 to 2010, assigned 75,000 women to undergo VIA every other year for a total of four rounds of screening while more than 76,000 women did not undergo the screening.3 Women in the trial went through a cancer education program and were offered free treatment if diagnosed with cervical cancer.1
Swabbing the cervix with diluted vinegar causes abnormal cells to temporarily turn white, which can be seen with the naked eye or a magnifying glass. Healthy tissue does not change color. The cost of the test is under $1 whereas a Pap or other test that screens for human papillomavirus would cost $15 per test.1
The Pap test involves scraping cells from the opening of the cervix and examining them under a microscope for signs of precancerous or cancerous lesions. The adoption of the Pap test in the mid-20th century led to reduced deaths from cervical cancer. In India, cervical cancer is the leading cause of cancer death for women.3
Officials in the state of Maharashtra are training healthcare workers to screen women from ages 35 to 64. African nations including Malawi, Madagascar, Nigeria, Uganda, Tanzania, and Zambia now employ VIA.
Every year 250,000 women worldwide die from cervical cancer. The World Health Organization estimates 80 percent of these women live in low-income areas.2
The adoption of this plan by the World Health Organization in six African nations will save thousands of lives annually and help prevent future generations from the devastating loss of a family member.
References:
Shastri, S., et al. (2013) "Effect of visual inspection with acetic acid (VIA) screening by primary health workers on cervical cancer mortality," American Society of Clinical Oncology (ASCO) 2013; Abstract 2. Retrieved from Medpage Today.
"Cheap test with vinegar checks for cervical cancer; seaweed may help prevent it," The Washington Post, June 3, 2013.
"Simple vinegar test to prevent cervical cancer death," The Times of India, June 3, 2013.