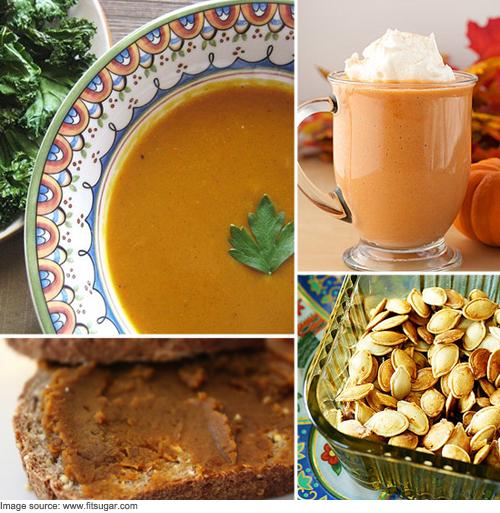 Both the 2010 Dietary Guidelines for Americans and the American Cancer Society Guidelines on Nutrition and Physical Activity for Cancer Prevention emphasize the consumption of a variety of fruits and vegetables -- the more colorful, the better. Eating at least five servings of fruits and vegetables each day will help you achieve (or at least approach) the recommended 25 to 35 grams of fiber consumption, too.
Why not try something new for one of those vegetable servings? For years, pumpkin was considered mostly a pie filling. Well, pumpkin is a very versatile vegetable with many health benefits.
One serving of pumpkin is a great source of vitamin A, which is important for vision, bone growth, reproduction, and cell functions.1 The form of vitamin A found in many fruits and vegetables is beta carotene. This is what gives pumpkin its beautiful orange color.
Even though vitamin A is a fat-soluble vitamin, it is impossible to overdose on vitamin A consumed as beta carotene from fruits and vegetables.2 However, if you eat a lot of orange-colored fruits and vegetables, beware. The soles of your feet and your palms might turn orange, like mine did when I was a baby. Apparently, I did not like baby food meat, so my mother gave me more vegetables, resulting in orange feet.
Pumpkin is also a great source of dietary fiber. One-half cup of canned pumpkin contains five grams of fiber. Canned pumpkin also contains virtually no sodium and is low in calories and fat.3
In the case of pumpkin, canned is just fine. It can be a lot of work to clean, cut, cook, and puree a fresh pumpkin. Using the canned stuff is a great way to incorporate pumpkin quickly into more of your recipes. Canned pumpkin is also a great way to enjoy pumpkin year-round.
Think outside the box. Though pumpkin pie is certainly delicious, pumpkin can be incorporated into both sweet and savory dishes at any meal of the day. Here are some recipes to try.
Breakfast

Snack

Lunch

Dinner

References:
MedlinePlus. Viatmin A. Available at http://www.nlm.nih.gov/medlineplus/vitamina.html.
National Institute of Health. Office of Dietary Supplements. Available at http://ods.od.nih.gov/factsheets/VitaminA-HealthProfessional/.
Libby's Pumpkin. Available at http://www.verybestbaking.com/Libbys/Products/PurePumpkin29oz.aspx.