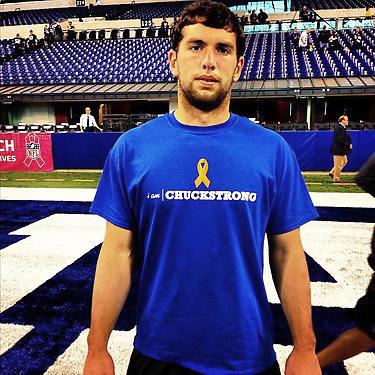 On October 1, the day before Chuck Pagano's 52nd birthday, Indianapolis, as well as the entire NFL world, learned of a new diagnosis for the Indianapolis Colts head coach: acute promyelocytic leukemia, or APL.
Instantly, Facebook, Twitter, local news stations, and even ESPN lit up with questions about what this meant, both for Coach Pagano and for the Colts. (#CHUCKSTRONG and "Chuck Pagano" became trending topics on Twitter by that afternoon.)
As you can imagine, there was a lot of misinformation floating around about his diagnosis. The most prominent, to me, was an article in USA Today that said he would initially undergo four to six months of treatment. According to his doctors, Pagano would actually undergo the standard four to six weeks of hospitalization for induction chemotherapy, in hopes of remission.
How was his cancer discovered? Reports state the obvious to us oncology nurses: Pagano was feeling unusually sluggish, fatigued, and noticed that he was bruising easily. A wise man, he went to his doctor, who did the right thing and obtained a blood sample. They found his blood levels to be abnormal, and he was then referred to an oncologist.
It's extremely unlikely that doctors would have performed a lumbar puncture to check for type; instead, they obtained a blood sample in order to perform a peripheral smear to confirm the diagnosis of promyelocytic leukemia. The reasoning behind this is because one of the symptoms that brought Pagano to his doctor, coagulability, is much lower in this type of leukemia versus other types of leukemia or cancers.
Many Colts fans are scared about what his diagnosis means in this "rebuilding year." Unfortunately for fans, this means the coach, like all other sufferers of this illness, will be away from the field until his blood levels normalize following chemotherapy treatment. What many in the community fail to understand is why.
People with leukemia have a higher white blood cell count, but the cells are immature, and ineffective germ-fighters. The chemotherapy will kill off all of these cancerous white cells, as well as decrease bone marrow production. The patient (in this case, Pagano), must then let his body recover and allow the bone marrow to begin producing mature, healthy blood cells.
Until the production of the correct number of mature cells, he will be at a much higher risk for infection. For much of that time, he will be considered neutropenic, which means he will have restrictions on his diet (no fresh/uncooked fruits and vegetables), no care packages (flowers or other live plants), preferably only adult visitors, and no one who is sick or who has knowingly been around those who are sick.
As many news outlets have shared since the breaking of Pagano's illness, the prognosis for APL is good. It's considered "curable," with remission reached in anywhere from 86 to 95 percent of cases. This is good news for both Colts fans, and family members of anyone diagnosed with APL.
How can I help?
There is always a need for blood. Friends, family, and others who want to help someone diagnosed with APL can best support the patient by donating blood. These patients receive many transfusions. Anyone who wants to help someone battling a hematological cancer is urged to donate blood if possible.