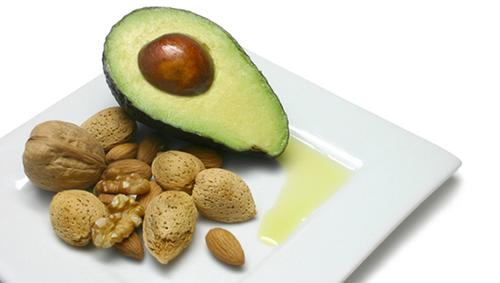 New research suggests that men diagnosed with prostate cancer may benefit from consuming oils and nuts.
JAMA Internal Medicine published the results of the Health Professionals Follow-Up Study (1986-2010) on June 10, 2013. Initially the study population included 51,529 male health professionals. Of these, there were 4,577 men who met the study criteria for analysis. They included men who were free from cancer at baseline and later developed non-metastatic prostate cancer.
After diagnosis, the men who ate an extra ounce of nuts daily experienced an 18 percent reduction in distant metastases or death due to prostate cancer. Men who consumed an extra tablespoon of an oil-based dressing every day had a 29 percent lower risk of lethal prostate cancer. 1, 2
An easy way to increase both of these items might be to toss several nuts into the dinner salad. One ounce of nuts could be as little as: 8 medium Brazil nuts, 12 macadamia or hazelnuts, 14 English walnut halves, 15 pecan halves, 18 medium cashews, 24 almonds, or 35 peanuts.3
Another conclusion drawn from the study was that replacing 10 percent of calories from carbohydrates with vegetable fat was associated with a 26 percent lower risk of death. Vegetable fat was later described as oil-based dressing, margarine, mayonnaise, and nuts. If the study conclusion is accurate, it makes me wonder: How could a tablespoon of mayonnaise be more beneficial than a baked potato?
It would be easier to accept the study conclusions if the study had indicated a benefit from eating olive oil and avocados while decreasing processed snacks. I believe the conclusion warrants further investigation, especially since the Dietary Guidelines for Americans (developed by the USDA) suggests that Americans use fats and oils sparingly.4 Perhaps we need additional studies to clarify which carbohydrates should be reduced and which vegetable fats should be increased.
One of the final conclusions of the study authors was that men with prostate cancer should be advised to follow a heart-healthy diet in which carbohydrate calories are replaced with unsaturated oils and nuts to reduce the risk of all-cause mortality.2
What do you think? I would love to hear your thoughts on this suggestion.
References: