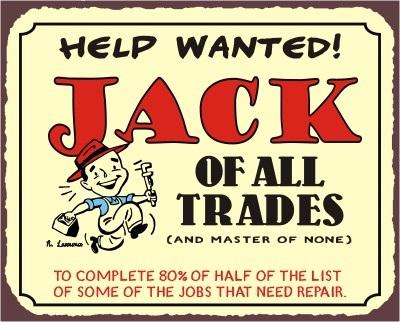 Have you ever heard the saying ďjack of all trades, master of noneĒ? My problem is exactly the opposite! I have mastered my current job, but I may have lost some clinical skills along the way.
As an inpatient dietitian, I provided diet education for numerous patients with diverse medical conditions. One minute I would be discussing a low fiber diet, and fifteen minutes later teaching a diabetic diet.
In the hospital, I also had exposure to many different types of cancer and treatment modalities. The Bone Marrow Transplant (BMT) unit definitely helped me understand the adverse gastrointestinal effects of high dose chemotherapy. It was a significant challenge to prevent weight loss and malnutrition in patients with graft versus host disease, or severe mucositis. These patients frequently needed alternative nutrition support with TPN, something thatís rarely needed in my current patient population.
In 2008, I transferred to the outpatient Radiation Oncology department. The change of setting was amazing! The department is small, with about thirty employees compared to the 10,000 employees in our healthcare system. The change reminded me of the theme song to the television show Cheers: ďWhere Everybody Knows Your Name." Creating relationships with co-workers and patients deepened my job satisfaction.
When I worked with hospitalized patients, I would meet someone once and they would be discharged home. The benefit to working in outpatient Radiation Oncology is that Iím able to see the same patient on numerous occasions. When a patient needs treatment five days a week, for six weeks, there are many opportunities to make a difference. Patients are appreciative, and I can see the positive effects of the interventions. Itís a very rewarding career.
The change was exactly what I needed, but as you know, there are pros and cons to every decision. The con to making the switch is exemplified by the old saying ďif you donít use it, you lose it.Ē I wonder if my lack of exposure to immune-compromised, hospitalized patients will be evident this fall when I repeat the Certified Specialist in Oncology Nutrition (CSO) exam. I feel pretty confident that Iíll pass, but I have to admit, Iíll need to refresh my memory in a few areas.
Did you make a positive career change that you would like to share? What were the biggest advantages and disadvantages to your switch?