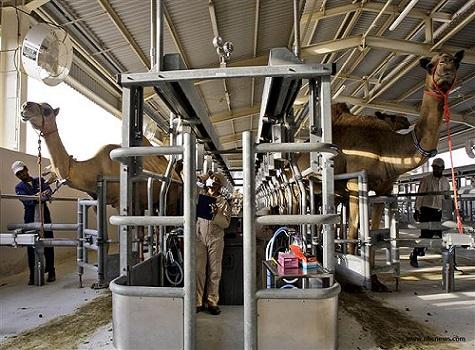 It has been several years since we transitioned our son from cowís milk to almond milk. When we first made the switch, the only alternative to dairy looked very unappealing. The product was on the grocerís shelf at room temperature. Today thereís a much larger variety of milk products from soy, rice, and almonds right in the dairy case.
Recently, I attended a conference and heard a local doctor and a few parents give rave reviews about camelís milk. It even turns out that the Camel Milk Association is right here in my home state of Michigan. I know this may sound ignorant, but with 80 inches of snowfall this winter, I would never have guessed that there were camels here! I also had no idea that it was even possible to consume locally produced camelís milk in the US.
Camel Milk USA and Dr. Millie Hinkle have been working to open the door for camelís milk to be sold commercially in the US. It appears that camelís milk was approved after a testing kit was given the seal of approval by the FDA in October 2012. Personally, I havenít seen camelís milk at the grocery store. From the websites that I have been reviewing for this article, it appears that the camel milk is being sold directly from the farm to the consumer.
According to the United Nations News Centre, camelís milk is slightly saltier than cowís milk, but has three times the amount of vitamin C. In addition, ďCamel milk is the closest to a human mother's milk. There are no known allergies to it,Ē said camel farmer, Gil Riegler in an interview with The Orange County Register.
In an article for Voice of America News, wildlife veterinarian Sharon Deem of the Saint Louis Zoo estimates that 4 million people in Kenya probably drink unpasteurized camel milk. Deem and her colleagues are investigating the potential health risks. They are focusing on three diseases: brucellosis, trypanosomiasis, and Q fever. These diseases could spread to people who drink unpasteurized milk.
So what does all of this have to do with cancer? Well, one article in the journal Food Chemistry found that ďCamel milk lactoferrin inhibited the growth of colon cancer cells in vitro by more than 50%.Ē In another study published in the Journal of Biomedicine and Biotechnology, researchers investigated the effect of camel's milk on the proliferation of human cancer cells. The results showed that camel milk, not bovine milk, induced apoptosis in vitro in HepG2 (liver hepatocellular carcinoma) and MCF-7 (human breast adenocarcinoma cell line). In addition, previous studies have shown that camel's milk contains higher amounts of antioxidant vitamins when compared to cow's milk.
Given this information, are you ready to make the switch from cowís milk to camelís milk?