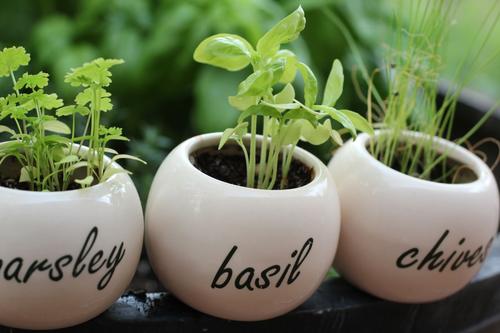 August 29 has been gaining popularity as "More Herbs, Less Salt Day." Most people recognize that too much salt is not good for our heart. It has especially been linked to high blood pressure, but high amounts can also increase a personís risk for stroke, kidney disease, and even stomach cancer.
Salt has been shown to damage the stomach lining (in animal studies) and enhance the action of carcinogens in the stomach. The American Institute for Cancer Research expert report states that ďSalt is a probable cause of stomach cancer.Ē
Most people consume way too much sodium; the average American consumes 3,400 mg per day while the American Heart Association recommends less than 1,500 mg per day. When I talk to people about salt, one of the most common statements I hear is ďI donít put salt on my food,Ē but in actuality most of our intake comes from sodium that's already added to processed foods and beverages. Even fresh meat and poultry are sometimes injected with sodium to add weight and moisture.
But, what I really like about this day is the emphasis on more herbs. When counseling patients about nutrition and telling them something to limit in their diet, I also want to tell them something to increase to help balance it out, otherwise the information and message always seem negative. And from a cancer perspective there are so many benefits to herbs in addition to their great taste!
Rosemary contains anti-inflammatory compounds, oregano has antibacterial and antifungal properties, chives can help boost the immune system, and thyme has antiseptic properties. Thymol, one of the compounds in thyme, is a key ingredient in Listerine antiseptic mouthwash -- I thought that was interesting!
Another reason Iím a big advocate of using herbs for seasoning is that the more flavor a food has, the more satisfied a person is with it, otherwise we tend to overeat in an attempt to get that feeling of satisfaction. I frequently use low-calorie or low-fat/fat-free foods as an example of this: They typically donít taste as good as the regular version, so we keep eating and eating them trying to get enjoyment out of it and often end up consuming more calories than if we had a reasonable portion of the original food to begin with.
Here is a nice guide on 10 of the most popular herbs and how to incorporate them into cooking. What is your favorite herb to use in cooking? Do you regularly educate patients on the harmful effects of excess sodium?