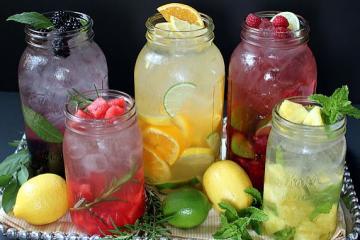 Is it hot where you live? Part of the country is in a heat wave right now, and many areas have set record high temperatures. Adequate hydration is crucial at all times, especially when it comes to our oncology patients.
One of the most frequent recommendations I make to oncology patients is for them to try and increase their fluid intake. It's not that their needs are particularly high, but so many times, people simply arenít taking in enough fluid. And the problem may be further compounded by a high caffeine intake with coffee, tea, or energy drinks.
Cancer patients in particular need to be cognizant of their fluid intake. Adequate hydration can often help minimize or alleviate many side effects associated with treatment such as fatigue and nausea, as well as help the kidneys process and clear potentially toxic medications.
Speaking of patients, I just saw a patient with head and neck cancer receiving chemoradiation who was complaining of dry mouth, fatigue, and thick secretions. She was trying to eat primarily moist foods such as fruit and yogurt and drinking some fluids, but was still probably not getting in more than one liter a day of fluid.
She had a percutaneous gastrostomy tube (PEG) placed prophylactically before starting treatment, but has been able to maintain her weight with oral intake thus far, and was only flushing the tube with water to keep it patent. She hadnít even thought of simply infusing more water through the tube each day to increase her fluid intake. So, that was an easy fix -- but what about all of those struggling with getting in adequate fluids who donít have that option?
Certainly, water is the best fluid choice for most people, but many just donít like drinking it that much. I have to confess that I am one of those people. I do great with drinking water while exercising, but other than that, would much rather be drinking tea or coffee or diet soft drinks -- all with caffeine, too!
Recently, Iíve seen a lot of posts and recipes for infused waters. These are simply water that has been infused with pieces of fruit, herbs, or even vegetables. Iíve decided to give these a try to see if they will entice me to drink more water, and Iíve been recommending them to patients to try, too.
The website linked above is one of my favorites. I love the pictures -- they all look so fresh and inviting, like something you would get in a spa! While I donít believe we will actually get all of the nutritional benefit of the herbs and fruits if we donít actually eat them, just providing that burst of flavor may help increase water intake. And, we eat (or in this case, drink) first with our eyes, so having something so attractive can potentially increase how much we end up enjoying it.
Have you tried infusing water with various fruits or herbs? What do you like? Do you recommend it to patients?