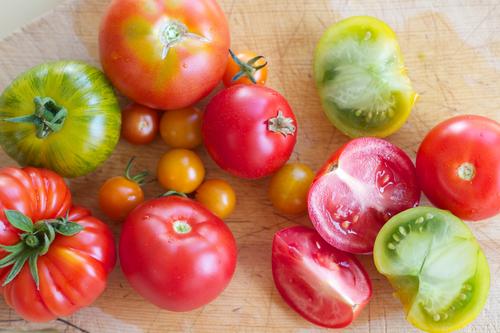 I'm not a vegetarian, but I love vegetable suppers, especially in the summer. There is a rather high-end restaurant where I live called Hot and Hot Fish Club. On the occasions I've been fortunate enough to go there, I always opt for their vegetable plate, even over their renowned fish dishes. Why? Because the vegetables are simply that good!
One menu item they are famous for is their tomato salad. This item is only on the menu for a few months when local tomatoes, especially heirloom varieties, are in season. If you are ever in Birmingham, Ala., I highly recommend this restaurant!
Tomatoes are excellent sources of antioxidants, fiber, vitamins, and minerals, all in a low-calorie package. The phytonutrient that gives tomatoes their red color is lycopene. Some studies have shown that individuals who have a high intake of lycopene have a lower risk of certain types of cancer, including lung and stomach cancer, and particularly prostate cancer. Interestingly, cooking tomatoes enhances the absorption of lycopene.
Tomatoes are one of the few foods where the cooked form has more (at least more bioavailable) nutrients than in its raw form. Lycopene in tomato paste is four times more bioavailable than in fresh tomatoes. Also, having a small amount of oil or fat along with tomatoes aids in the absorption of lycopene in the gut.
Lycopene is insoluble in water but can stain porous materials, including most plastics. If you've ever stored tomato sauce in plastic you know that it is almost impossible to get rid of the stain, even with hot water and detergent. One tip is to spray the container with cooking spray before putting the sauce in, or even better, using glass containers, especially if you are going to heat it in the container itself.
Ways to increase tomatoes (and lycopene) in your diet:
While cooked tomatoes provide the best source of bioavailable lycopene, by all means, enjoy fresh, raw tomatoes in season. Nothing beats a tomato sandwich dripping with juice!


Make your own marinara sauce or buy one low in sodium and sugar. Serve with whole wheat pasta or use as a dipper for vegetables or whole grain bread sticks.


Add canned tomatoes to soups, casseroles, and dips such as black bean salsa. Or use as a topper for bruschetta with a little olive oil and some herbs.


Mix sun-dried tomatoes with green beans or cooked dried beans and peas.


Enjoy low sodium tomato juice as a thirst quencher.


Top a baked potato with jarred salsa (the canning/jarring process heats the tomatoes).
What is your favorite tomato dish?