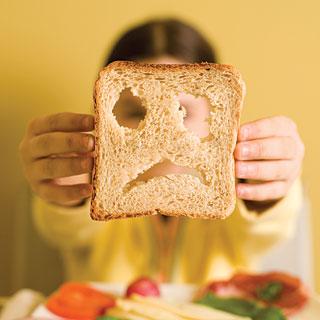 May is National Celiac Disease Awareness month. While I believe that the awareness of celiac disease has increased in the general public and in healthcare itself compared to 10 to 20 years ago, and currently the gluten-free diet is "trendy" among celebrities, many people are not aware of the potential increased risk of certain types of cancer with celiac disease.
Celiac disease is an autoimmune disorder in which an abnormal reaction occurs in the immune system in response to gluten ingestion, found in wheat, rye, and barley. Inflammation occurs and villi in the small intestine are damaged by prolamins found in gluten resulting in malabsorption. Symptoms may vary from mild (or even nonexistent) to severe but are not just limited to the gastrointestinal tract and can occur at any age.
Symptoms include: bloating, gas, diarrhea, weight loss, bone and joint pain, constipation, menstrual irregularities, infertility (male and female), fatigue, easy bruising, depression and dermatitis herpetiformis (DH). Untreated celiac disease can lead to nutrient deficiencies, anemia, osteoporosis, reproductive complications, and an increased risk of intestinal cancers.
While exact numbers vary among studies, a positive association has been found between celiac disease and malignant lymphomas, especially T-cell lymphoma and non-Hodgkin's lymphoma. Some studies have also seen an association with esophageal and pharyngeal cancer. Chronic inflammation accompanying celiac disease is theorized to lead to this association. Interestingly, studies have found a lower incidence of breast, endometrial, and ovarian cancer in women with celiac disease.
Potential reasons for the protective benefit of celiac disease on these cancers are due to possible malnutrition, nutrient deficiencies, lower body mass index (BMI), reproductive disturbances, delayed menarche, or early menopause. All these factors would theoretically lead to a lower lifetime exposure to estrogen.
Celiac disease treatment
This is one of the few conditions where diet is the only effective treatment. There are no medications or procedures to treat celiac disease. Certainly, medications may be used to treat some of the symptoms or complications such as osteoporosis and anemia, but lifelong adherence to the gluten-free diet in necessary to minimize damage to the intestine.
I mentioned earlier that the gluten-free diet is trendy right now as many celebrities are following it. Many people go on it in an attempt to lose weight. I don't feel that the diet itself causes weight loss, but if someone changes from a heavily processed, high calorie, high fat diet to one that is more whole foods-based, they may lose weight and will much likely feel better overall.
There has been an explosion of gluten-free products available now compared to 10 years ago. I don't recommend the diet unless someone truly has celiac disease or has gluten sensitivity, but I am thankful that the demand (even coming from those that may not really need it) has resulted in an increased supply of gluten-free foods. One drawback that I've noticed though is an increase in what I call "gluten-free junk food" -- packaged cookies, cakes, pizza, chicken nuggets, etc. While there is room for these foods on occasion they shouldn't be the bulk of someone's diet, and too often I see people fill up on these and ignore foods naturally free of gluten such as fruits, vegetables, and gluten-free whole grains.
If you would like to learn more, there is a National Foundation for Celiac Awareness website called Celiac Central, which contains information for the public and health professionals.
References:
Elfstrom P, et al. Risk of lymphoproliferative malignancy in relation to small intestinal histopathology among patients with celiac disease. J Natl Cancer Inst 2011;103:436-444.
Ludvigson JF, et al. Reduced risk of breast, endometrial and ovarian cancer in women with celiac disease. Int J Cancer 2011:131, E244-250.