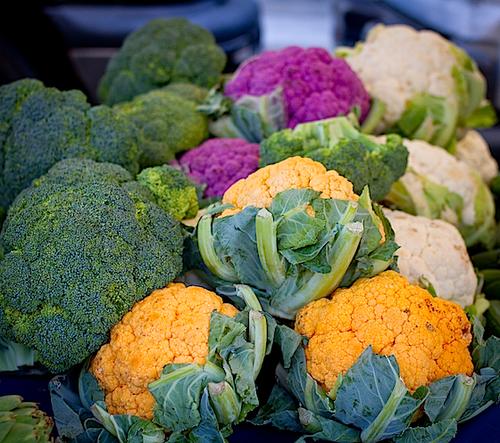 While the summer's bounty of fruits and vegetables has sadly ended, the flavors of fall are everywhere.
Winter squashes (butternut and acorn); sweet potatoes; greens (turnips, collards, mustard, and kale); and of course pumpkin are overflowing in the vegetable markets and grocery stores. But I want to focus on an often overlooked and neglected vegetable -- cauliflower.
I never ate cauliflower that much growing up, but honestly now it is one of my favorite vegetables. Cauliflower just does not get the kudos it really deserves! I know it is not a "dark green leafy vegetable" like we often promote, and it's not really deep in color at all (I often tell people "the deeper the color, the more nutrients"). It is, however, a powerhouse when it comes to phytochemicals.
Known as a cruciferous vegetable, cauliflower is in the species Brassica oleracea, along with brussels sprouts, cabbage, and broccoli. Cauliflower contains the phytochemicals isothiocyanates, indoles, and glucosinolates. These have been found to aid in detoxifying carcinogens. They help limit the production of cancer-related hormones and can even block tumor growth.
Did you know there are four different colors of cauliflower? Certainly white is the most common, but there is also orange cauliflower (which contains 25 times the level of vitamin A as the white variety), green cauliflower (also called broccoflower), and purple cauliflower (purple due to the presence of the antioxidant anthocyanins as are in red berries). I've never had any other than the white variety. I just saw orange cauliflower but I really want to try the purple variety -- eating purple food just sounds fun!
Nutrition facts: Cauliflower is low in fat and carbohydrates but high in fiber and an excellent source of folate and vitamin C. I remember during the "low-carb craze" people would often mash cauliflower and eat it as if it were mashed potatoes because it is so low in carbohydrates. Raw cauliflower contains 25 calories per cup. Hard to believe those 25 calories can be packed with so much good nutrition!
Preparation: Cauliflower can be prepared in a number of ways. However, you don't want to boil it for very long as this will cause the nutrients to leach out.
Raw: Chop up and sprinkle over salad greens. Use the florets as a dipper for hummus (a great snack).
Stir-fry: Cook the cauliflower in olive, peanut, or canola oil. Cooking at a high heat for a short period of time will help preserve the nutrients. Experiment with different herbs and spices -- ginger, curry, and Italian seasonings complement cauliflower well.
Roast: My favorite way of preparing cauliflower! Chop into pieces and toss with some oil (I use basil-infused olive oil), sprinkle with salt and pepper, and spread out on a sheet pan. Cook in a 400 degree oven for about 15 minutes. Then sprinkle with a little grated Parmesan cheese.
Puree: Cooked, pureed cauliflower can be the base of a soup or even added to other soups or casseroles in place of some of the fat to add a creamy consistency and boost the nutritional content without adding many calories.
Do you like cauliflower? How do you prepare it?