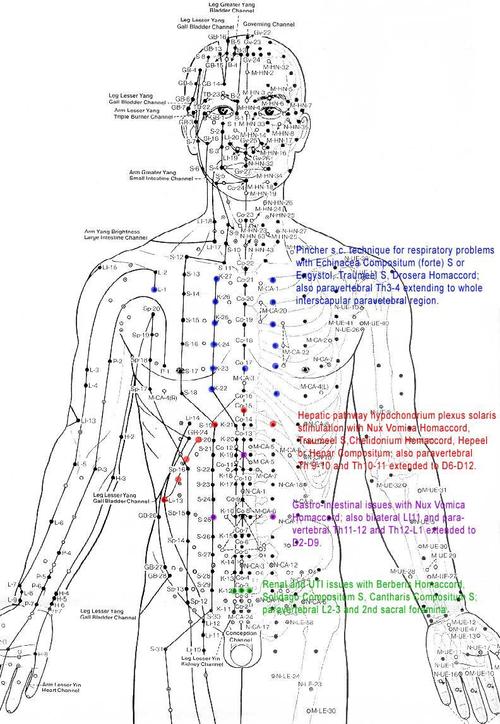 I work with a nurse who has been trying for years to get pregnant without success. She was not keen on infertility treatments and we discussed trying acupuncture. I referred her to a well-established acupuncturist in our area and within two months she was pregnant! Now she is 14 weeks along and I couldn't be happier for her.
Benefits of acupuncture have long been documented, including relief of various types of pain, infertility, and chemo/radiotherapy-induced nausea. The practice of acupuncture was first referenced in The Yellow Emperor's Classic of Internal Medicine in 305 B.C. (Ehling, 2001). In 762 A.D., the Ling Shu Vital Axis was composed, documenting utilization of approximately 365 acupuncture points along various meridian fields of the body. (Kaptchuk, 2000).
Meridians are channels that carry Qi and blood throughout the body. The Chinese describe Qi as a life force or vital energy that allows the body to function properly. Qi functions to warm, protect against pathogens, and direct all movement of bodily fluid.7 "The goal of all treatment methods in Chinese medicine is to rebalance those aspects of the body's Yin & Yang whose harmonious proportion and movement have become disordered." (Kaptchuk, 2000).
Acupuncture remains controversial in Western culture, however, due to the lack of randomized controlled trials (RCT) proving its validity.
Creating case studies that use proper scientific controls is difficult because of the invasive nature of acupuncture. A clinical study involves a placebo (sham product) compared to the targeted treatment. It is very hard to devise a sham acupuncture control that one can compare to proper acupuncture.6
Nevertheless, a scientific framework has been slowly developing since the 1970s regarding the physiologic mechanism of acupuncture. Researchers have worked to move beyond meridian theory to discover what physiologic processes are occurring to produce the documented changes in patient symptoms. Through the study of electromagnetism, researchers have found lowered electrical resistance and higher conductivity on the skin at designated acupuncture points. (Hurtak, 2002).
Some studies have also shown acupuncture releases enkephalins, dynorphins, and beta-endorphins from the spine (gate theory) and mid-brain. Still, others note that biopsy of acupuncture points reveals a neurovascular complex rich in lymphatic drainage and cutaneous nerves. (Soliman, 2002). Infrared thermography has also revealed that acupuncture channels tend to have different temperature gradients than surrounding areas.7
The World Health Organization provides a nice summary of studies done thus far proving or disproving acupuncture effectiveness.
Another obstacle to acupuncture is cost. As with most complementary and alternative medicine (CAM), acupuncture is often an out-of-pocket expense. Now with the Affordable Care Act, it will be interesting to see if access to such therapies is broadened or further hindered. Currently, acupuncture is not covered under Medicare, which many of our oncology patients use exclusively. The average cost for services ranges from $75 to $170 for a new client, $50 to $110 for an established client. (Cai, 2006).
In terms of safety, acupuncture has proven to be safe when compared to other medical interventions. Some potential adverse events include pain at the puncture site, itching, dizziness, and (rarely) aggravation of the original complaint.
For hematology/oncology patients, acupuncture is contraindicated for those with bleeding disorders, a low platelet count, neutropenia, or on blood thinners. I realize this describes half of our patients, but I still believe there is benefit to be had with acupuncture in our patient population.
So what is your experience with acupuncture, either professionally or personally? In our traditional Midwest practice, this is not something about which we often speak. However, larger centers like MD Anderson have a well-established Integrative Medicine Center where acupuncture can be easily incorporated into the cancer care plan.
What steps can we take as oncology professionals to make this a more mainstream rather than a rare intervention for our patients?
References:
Cai, F. (2006). Interview with Katherine Mitchell. Traditional Chinese Medicine Acupuncture. Conducted June 30, 2006.
Ehling, D. (2001). Oriental Medicine: an introduction. Alternative Therapies in Health Medicine, 7(4), 71-82.
Hurtak, J.J. (2002). An overview of acupuncture medicine. The Journal of Alternative and Complementary Medicine, 8(5), 535-38.
Kaptchuk, T.J. (2002). Acupuncture: theory, efficacy, and practice. Annals of Internal Medicine, 136(5), 374-83.
Kaptchuk, T.J. (2000). The Web that has no Weaver: Understanding Chinese Medicine, 2nd ed. Lincolnwood, IL: Contemporary Books (McGraw-Hill).
Medical News Today (2013). What Is Acupuncture? What Are The Benefits Of Acupuncture? Retrieved February 8, 2013 from the World Wide Web: http://www.medicalnewstoday.com/articles/156488.php
Oriental Health Solutions (2006). Oriental medicine and acupuncture. Online Presentation. Retrieved February 8, 2013 from the World Wide Web: http://www.orientalhealthsolutions.com
Soliman, N. (2002). Medical acupuncture in the twenty-first century. Maryland Medicine, 3(1), 19-22.