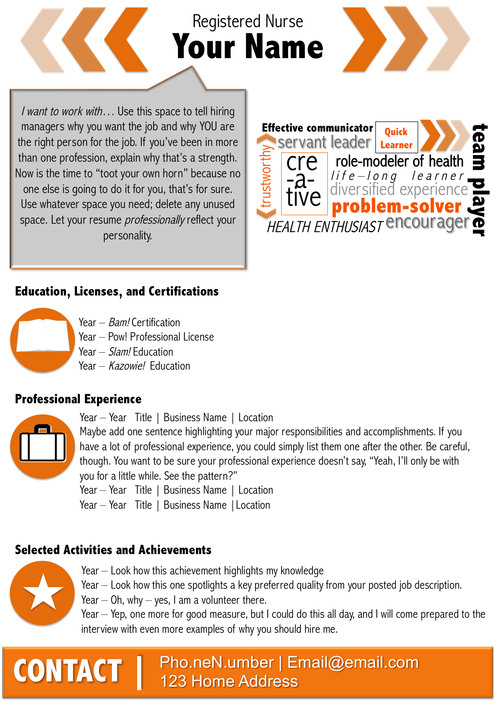 As a manager, I am often shocked when I review applicants' resumés. Misspellings, poor grammar, drab language -- it's a bummer for managers, especially when we have to review so many resumés.
They start to look and sound the same. There's very little differentiation among candidates unless something on the resumé really stands out. But that's if the manager takes the time to find it before moving on to the next, or worse, before dosing off.
Recently, resumés have taken a turn towards design, which is a little bit controversial, mainly because it's a big shift. Of course, we expect actual graphic designers to have stellar-looking resumés. That's what they do, right? But what about everyone else? Carefully-crafted, visually-appealing, colorful resumés are diffusing beyond the graphic design world to help candidates quickly catch attention.
We previously told people to print their resumés on special or heavier paper so it stands out in a stack of resumés. Considering most resumés are emailed or uploaded to a website, the best way to catch attention is to change the resumé -- visually.
Various fonts, colors, and even pictures are sweeping resumés by storm. I recently helped my husband update his resumé, and it is a night and day difference between his old and new resumés. It did get him noticed, and I'd like to think it landed him the job offer he wanted.
If you're up for a resumé renovation, give it a try and ask someone who loves that kind of stuff for help. It may even be worth hiring someone to help you, depending on the job you're hunting. Be sure to save your document as a PDF, otherwise your fonts and graphics will likely change to weird characters no one can read, which isn't good. If this is a little much for you right now or if you're more of a traditionalist, you can still update your resumé to impress a hiring manager. Here are some tips:
Proofread your work. Proofread it again. Ask your neighbor to proofread it. Your resumé is your very first impression, and grammatical errors will not scream, "Hire me!"

Fit it on one page. Unless you need a curriculum vitae, or CV, of your life's work, one page is still the best method. Pick your best of the best, distill it, and make it fit.

Change it up. Use the job description you're applying for, and weave key words into your resumé. Refresh your language for each role you move into.

Nix the "objective." This is outdated and takes up valuable space.
Does your resumé accurately represent you? Is it in need of a serious makeover?