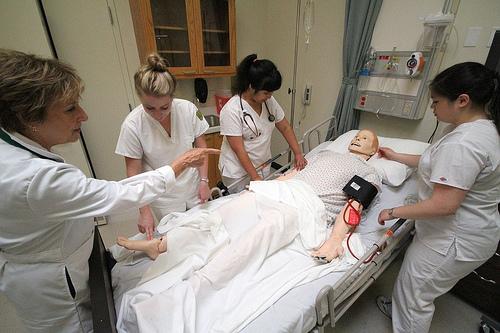 I love pretending in nursing education (and really in all education). Pretending, or "role-playing," or "simulation," as we call it in adult education, is not new to healthcare. We use simulation all the time, in both undergraduate and graduate education.
Many hospitals even have their own simulation labs that replicate busy and diverse care units. These spaces are brimming with advanced technology that allow instructors to program smart mannequins, prep live actors, and replay the recorded sessions for learners and educators alike. It's quite amazing. And, in addition to providing a safe place for teaching and learning, it saves lives.
When I don't know what to do when it comes to a specific issue at work, I like to role-play with others, acting out the situation so it's as close to real life as possible. I did this as a bedside nurse, and I still do it as a nurse manager, especially if I need to have difficult conversations with people, or have an important presentation on the horizon.
I also encourage team members to learn in this manner. In fact, I've used role-playing to help nurse navigators become comfortable with survivorship care plan dissemination to patients, a new concept and process for our team, as well as the healthcare system. I also encourage role-playing with patients. It's a great way to prepare them for what to expect next, or empower them to take control of their care.
Nurses can role-play with patients so patients can experience asking a trusted healthcare professional questions he or she might need to ask in the future. Nurses can also request that patients practice telling someone they don't necessarily understand what they just talked about, and request a different explanation to help clarify. This is actually part of the "Teach-Back Method" of patient education.
Simulation, role-playing, pretending, or whatever we call it, is a mostly non-invasive, safe form of learning. It's great for healthcare professionals and patients alike.
How do you use pretending, role-playing, or simulation in your daily nursing practice?