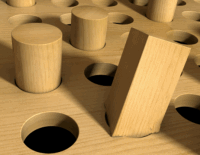 I stared at the revised PowerPoint presentation. I couldn't believe my eyes. The project leader changed everything about my section of the presentation. Everything. Right down to deleting my modern graphics and adding in clip art from what felt like 1989. My two sparsely-texted, clean slides morphed into seven, overcrowded slides. Apparently, including everything I planned to say in the notes section did not help relieve anxiety that I would inadvertently skip over elements not on the slides.
As I spoke to the project leader, a more senior leader than myself, I was told, "Your section needs to look like everyone else's, and this group needs to see the content in addition to hearing it."
As much as I tried to explain the value of differentiation, especially to a group of people who see presentation after presentation, the logic behind using more images than text, and the best-practice of limiting text on slides, nothing would nudge her. Five hours later I stood in front of a room full of people and gave the revised presentation my leader wanted, even though I strongly disagreed with the delivery method. It went well.
I consider myself a creative person, and I often run into situations in which I feel like a square peg crammed into a round hole.
Not everyone agrees on style or methods, which can be exhausting for everyone. However, that is also the benefit of a team: diversity.
If you feel as if you're being forced to fit the mold rather than break it, you can do one of four things:
You can leave the environment, which may or may not be an option for you. Considering your ability or inability to adapt to the culture, the environment may be too stressful, and finding a more suitable culture and environment may be the best option for long-term success.
You can stay in the environment and attempt to change it entirely. This is unlikely to happen as organizational behavior is a behemoth. Chances are, you'll be viewed as insubordinate and told to leave.
You can stay in the environment and fully adapt. Become part of the culture and succeed alongside everyone else.
You can stay in the environment and have a positive effect. This is the best option for diversified teams and organizations. Work within the framework of your culture, and respectfully push the boundaries when it is important to you.
Whether you are the "peg" or the "hole," whatever you decide, the peg may change, the hole may change, or the peg and hole may change together. Being forced to fit the mold is never fun; it is, however, a learning opportunity for everyone involved, so learn from it and move forward.
Have any of you encountered these challenges in a nurse management role?