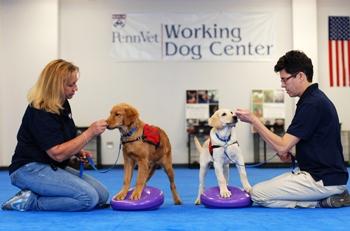 One of the most frustrating issues in the fight against ovarian cancer is the lack of a method for early detection. By the time most ovarian cancers are discovered, theyíre in a later stage (Stage III or IV), making long-term survival for patients less likely. Researchers have discovered there may be a new ally in finding ovarian cancer earlier: manís (and womanís) best friend, Fido.
At the University of Pennsylvania's Working Dog Center, McBaine, a Springer Spaniel; Ohlin, a Labrador Retriever; and Tsunami, a German Shepherd are being trained to sniff out the volatile organic compounds (VOCs) that are changed in early-stage ovarian cancer. Organic chemist George Preti, of the Monell Chemical Senses Center, hopes to develop instruments that can replicate what a dogís nose can do.
Cindy Otto, Director of the Working Dog Center, says:
These odorants remain a relatively untapped source for cancer detection information. By utilizing the acute sense of smell in detection dogs in conjunction with chemical and nanotechnology methods, we hope to develop a new system of screening for ovarian cancer using analysis of odorants to facilitate early detection and help decrease future cancer deaths.
When caught early, ovarian cancer has a nearly 90 percent survival rate. When the disease has been found after the cancer has metastasized, that survival rate drops to 40 percent. According to the American Cancer Society, 22,240 women in the United States will receive a diagnosis of ovarian cancer this year, and 14,230 will die from the disease.
If we can figure out what those chemicals are, what that fingerprint of ovarian cancer is thatís in the bloodóor maybe even in the urine or something like thatóthen we can have that automated test that will be less expensive and very efficient at screening those samples.
Ovarian cancer patient Marta Drexler didn't hesitate to donate tissue to the research project. She describes herself as a textbook case of the disease not being detected early enough because she had no symptoms:
To have the opportunity to help with this dreadful disease, to do something about it, even if it's just a tiny little bit of something, it's a big thing.
The researchers at Penn will expand on previous work that noted a change in odorous compounds in the body when ovarian cancer is present. A 2004 study in Britain noted that dogs were able to detect bladder cancer by smelling the patientís urine.
Future efforts will examine which tissue is most suitable for evaluation, as well as examining specimens for changes in odor depending on the tumor grade.
Iím a cat person, but this just might make me a dog person as well.