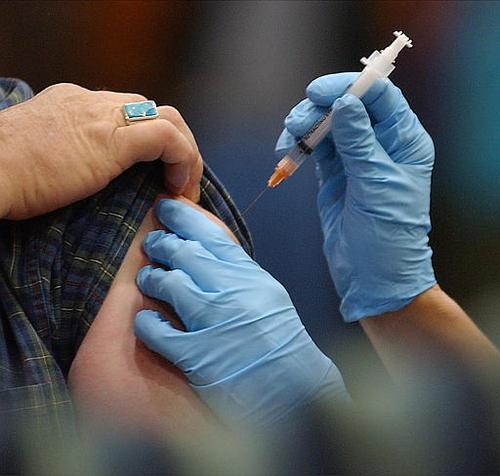 Here in New York City, the weather is cooling, the days are growing shorter, children are back in school, the Jersey tomato season is just coming to an end, and apple picking has begun -- it's truly autumn, and with the fall season comes the reminder to get our annual flu shots.
As healthcare providers in direct contact with patients who may be immune-compromised, we have a responsibility to protect our patients from our own contagious illnesses, particularly ones that are preventable, like the influenza virus.
I worked in a hospital with a wonderful NP who always took the flu shot. While it wasn't mandated, it was made readily available at no cost by our infectious disease and employee health departments every fall. In fact, they made a special effort to go around to the different units in the hospital to deliver the immunizations onsite.
One fall season, she missed "flu-shot day" on the unit, and, though she meant to carve out some time to head down to employee health to get her shot, the jam-packed days passed and she never quite made it, until, one afternoon, she began to feel "out-of-sorts."
The next morning she showed up for work feeling fatigued and achy, thinking that she had overdone it at the gym and just wasn't sleeping well. She continued to work. She developed a headache, eventually leading into fever and chills. Yep, she had the flu.
When she returned, she was still pale and weak from her bout with the virus and, by the end of her second day back at work, she relapsed and wound up home for another week and a half. She said for as rough as it had been and as sick she was, she couldn't help but think about her patients, knowing that she had inadvertently exposed them to the influenza virus, and hoping that she hadn't passed it along.
Arthur Caplan, PhD, Director of the Division of Medical Ethics, New York University Langone Medical Center and School of Medicine in New York City, discusses this issue in a Medscape video blog.
In this short clip, he outlines the ethical issues at stake and argues that the right of the individual to choose whether or not to get a flu shot is overridden by the choice to work in the medical profession and in a healthcare setting where patients are exposed to our contagious illnesses. The rights of an individual, in this situation, he suggests, are secondary to the mandate to "do no harm," an accepted ethical standard in the medical field.
Our ethical commitment to prioritizing patient interests and needs in the delivery of care further supports his case for the annual immunization of employees in healthcare settings. He even suggests that employers in these settings should make an annual flu shot a requirement of employment.
I wonder if the flu shot had been mandatory, would my colleague have felt empowered to leave the unit, despite the chaotically busy days, to get the shot that she had always intended to take? Would that have spared her both the physical trials of the flu and the emotional and psychological distress of worrying for her patients?
What do you think about mandatory flu shots? Is the ethical obligation compelling enough to drive work place policy on something as personally "invasive" as a flu shot?