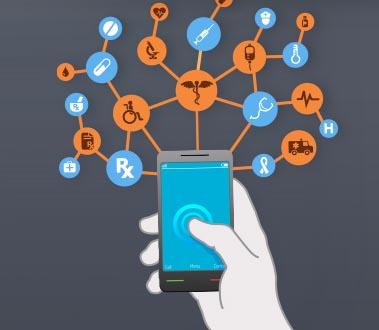 I recently stumbled across an interesting project while surfing online. It captured my attention because it's a kind of "pre-research" research project, an exploration of how we might use the health data that we, as individuals, are generating on a daily basis (via our use of health-specific apps, our smartphones, and social media) to improve public health.
The California Institute for Telecommunications and Information Technology, with support from the Robert Wood Johnson Foundation, has developed this project in an attempt to bring together researchers, the companies that collect our data, and the folks, like you and me, who are out there tracking our routines. The project may help monitor and record what we're eating, how we're sleeping, when and how much we're exercising, even our moods, in an attempt to better imagine how all of the raw data that we're generating might be used to further our understanding of health-related issues in daily living.
The team involved in this exploration project is taking the concept of health as a dynamic force in our day-to-day lives and asking how we can learn more about it so that we can positively influence it, now that we have ways of tracking daily activities, patterns, and deviations.
Through open-ended questions posed to each of three groups, they seek to examine common interests and ways to create meaningful collaborations. They are asking individuals to consider their experiences with data tracking and potential interest or willingness to share their personal data for broader health research purposes; asking the companies that manage these tracking services about their interests and concerns in sharing that captured data with health researchers; and, finally, asking health researchers what their data needs might be and how they might use the kinds of data that are potentially available.
The
online survey
will be available through the end of August 2013, consisting of 15 to 20 different questions for those individuals who self-track their health.
The personal is rapidly becoming less private in a world of increasingly complex technology. It will take skilled, thoughtful, and ethical leadership to create systems for sharing and using individual data in ways that neither compromise the individual nor over-compensate the company.
It will be interesting to see what the Health Data Exploration project uncovers as far as where and how the needs, concerns, and expectations of each of these groups intersect -- with one another and with public health interests overall.
Do you feel that this may be a way of minimizing cancer risk for the future?