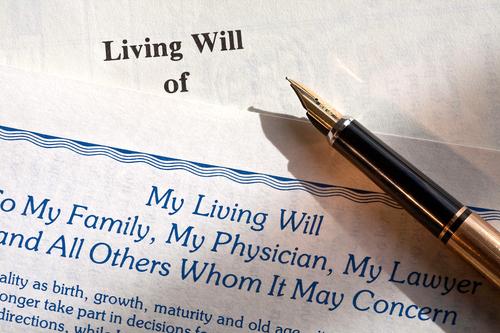 As an oncology social worker, a significant aspect of my work is fostering healthy, reality-based coping. Over the years, Iíve counseled hundreds of patients and families on the importance of thinking about, talking about, making, and documenting end-of-life decisions.
While none of this is easy to face, for most people, the relief in having worked through these issues and being able to file away the advanced directives, the healthcare proxies, the standby custody arrangements, the last Will and testament, and in knowing that their wishes are clearly stated and understood (or, at the very least, are understandable) by those who might need to act upon them, can be tremendous. Iíve seen the transformation again and again in my work -- from the highly-anxious, distressed patient who feels so out of control with all that is happening, to the less overwhelmed, calmer, more centered patient who, if nothing else, knows that her wishes will be honored.
You would think that my own end-of-life business would have been completed and neatly filed away very early on in my career. Somehow, though, it took several personal losses, several years in my line of work, and the birth of my first child, before I finally managed to practice what I preach.
Garrison Keillor, with his trademark deadpan delivery, said it wonderfully: ďI believe in looking reality straight in the eye and denying it.Ē I knew that I needed to deal with these issues, but, somehow, never managed to make the time to tackle them.
Ultimately, the hypocrisy of counseling countless patients to do this while not having done it for myself, and my concern about my (then) new baby girl, became the motivation that I needed to look reality straight in the eye and deal with it!
I was very lucky. I was young and healthy, and there were no reasons to expect that I would need the documents or that anyone would have to act on my decisions at any point in the near future. I was not burdened by the kind of anxiety that a life-threatening illness adds to an already uncomfortable situation. Nevertheless, the process of articulating my wishes, choosing and speaking to my proxies, discussing standby custody, and making arrangements in the event that neither I nor my husband would be able to care for our child -- and, in particular, the process of drafting, reviewing, finalizing, and signing my Will -- had a profound impact.
Confronting my mortality in such concrete ways brought home the fragility of this body and the ephemeral nature of life as we know it.
The experience of getting all my ducks in a row was not only important on a practical level, but deeply affecting. My personal experience with this process informs my understanding of my patientsí experiences in unique ways. I empathize with the anxieties and fears of those who havenít yet taken care of business as much as I do with those who feel that powerful sense of relief at having taken charge of something that once threatened to overwhelm, yet turned out to be so very manageable in the end. It is, indeed, a relief to have those documents settled and safely filed away!
Have you taken care of your personal business? If not, what's keeping you from doing it?