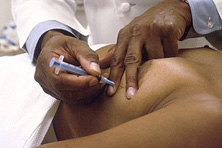 A breast biopsy is usually done to check a mass found during a breast examination or a suspicious area found on a mammogram, ultrasound, or magnetic resonance imaging (MRI). There are several ways to conduct a breast biopsy, with the tissue sample going to pathology for evaluation.
Fine-needle aspiration biopsy: A thin needle is inserted into a lump and removes a sample of cells or fluid.
Core needle biopsy: A needle with a special tip is inserted and removes a sample of tissue about the size of a grain of rice.
Vacuum-assisted core biopsy: This is done with a probe that uses a gentle vacuum to remove a small sample of breast tissue. The single small cut doesn't require stitches and leaves a very small scar.
Open (surgical) biopsy: A small cut is made in the skin, and a lump of breast tissue is removed in part or in full. This may be done as a first step to check a lump or if a needle biopsy doesn't provide enough information.
If needed, ultrasound or MRI can guide the biopsy needle, or a computer can be used to locate the exact coordinates for the biopsy sample from mammograms taken from two angles (stereotactic needle biopsy). A fine wire, clip, or marker also may be used to mark the site.
When I think of the evolution of surgical breast care over the last 30 years, it is remarkable to see how minimally invasive procedures can provide just as much information as other procedures. However, there are still a few controversial issues to keep in mind.
A fine-needle aspiration (FNA) biopsy should never be used to make definitive decisions. Samples are often of limited cell number and cannot be used for staging or for hormone status. I have seen surgeons taking patients to the OR based on an FNA finding and had to explain this in detail to the peer review panel!
A core biopsy is usually of sufficient cellular size and quality but can sometimes miss an area of concern. Nevertheless, it is always preferred to an open biopsy in the OR (used only in mitigating circumstances). Under ultrasound guidance, it is a reasonable and frequently used procedure.
The 2012 National Accreditation Program of Breast Center (NAPBC) Standards wishes to see excisional/open biopsies close to 0 percent to avoid second anesthesia and/or time.
I have witnessed excisional biopsies as large as quadrantectomies performed in the outpatient setting without any discussion of cosmesis.
The details of a particular 2001 case will stay with me for the rest of my career. The patient was a 45-year-old Latina with limited English language skills, limited funds, and only catastrophic insurance coverage. Whether these factors had a role in her decision or that of the surgeon, I do not know. Instead of a small incision and a sampling for the pathologist, the surgeon began to cut out the entire mass. Perhaps he was confident he could obtain clear margins on sight alone.
Needless to say, this was an outpatient procedure, and the center was ill equipped to handle a crisis. There was not an emergency cart on the premises, and no amount of suture was going to close the wound without cautery, let alone intraoperative antibiotics for wound care.
Of course, the pathology was returned as cancer, the margins positive, and the wound poorly healed. This woman did finally go to the OR, and a mastectomy was performed.
There are times, even now, in which excisional biopsies may be necessary to achieve the goal of tissue evaluation. Size or location of the tumor or patient preference may be an issue. However, these cases should be rare and avoided if there are options.
We will continue to see a variety of procedures as evidence-based science continues to shift the paradigm. Newer technologies, better staining techniques in the lab, and better understanding of tumor behavior will lead the way.
References:

Abeloff MD, Wolff AC, Weber BL, et al. Cancer of the breast. In: Abeloff MD, Armitage JO, Niederhuber JE, Kastan MB, McKena WG. Clinical Oncology. 4th ed. Philadelphia, Pa: Churchill Livingstone Elsevier; 2008: chap 95.
Whitman GJ. Ultrasound-guided breast biopsies. Ultrasound Clin. 2006;1:603-615.
Kim CH, Bassett LW. Imaging-guided core needle biopsy of the breast. In: Bassett LW, Jackson VP, Fu KL, Fu, YS. Diagnosis of Diseases of the Breast. 2nd ed. Philadelphia, Pa: Saunders Elsevier; 2005:chap 17.