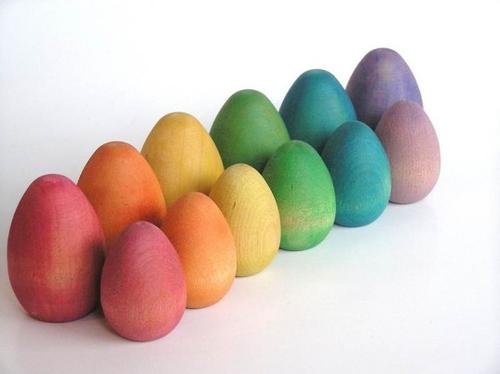 Happy Easter for those of you who celebrate the holiday!
For many families, it is a tradition to dye eggs for the annual Easter egg hunt -- but wait, what makes eggs those beautifully bright colors? Food coloring of course, but why should we care?
Well, first of all, food coloring has been linked with all sorts of health issues ranging from allergic reactions to cancer, and since hard-boiled eggs are permeable, the food coloring used in dying eggs ultimately permeates the shell entering the egg we eat. Donít you remember peeling off the shell of a blue egg only to see blue dye on the egg white? Yummy -- I always wanted to eat a blue egg!
Many are petroleum-based dyes, and some studies indicate that Red 40 may accelerate mice tumors, with Yellow 6 causing adrenal tumors in animal studies.
Donít worry, your egg hunt will not be full of white or brown eggs, because there are alternatives. I have not yet tried any of them but plan to try some this year. Apparently making a less toxic, natural dye is easy.
Author of the Cinco Vidas Blog, Britta Aragon, gives the following instructions:
Using one of the dying items below, add it to about one cup of water, bring to a boil, then simmer for about 15 minutes. Remove from heat, strain if you need to, pour into a liquid measuring cup, and add 2-3 teaspoons of vinegar to each cup. Put in a bowl big enough to completely cover the eggs you want to dye, and youíre ready to color.

Blue: canned blueberries, red cabbage leaves, or purple grape juice.
Gold: turmeric (curcumin spice).
Green: spinach leaves or liquid chlorophyll (from vitamin store).
Brown: strong coffee or black tea.
Orange: carrots or paprika.
Red: pomegranate juice, canned cherries with syrup, beet juice, or raspberries.
Yellow: orange or lemon peels, green or chamomile tea, ground saffron, or celery seed.
While I have never tried these methods, I plan on doing so this year. I canít wait to see what kind of mess -- I mean beautiful and memorable eggs -- we will create.
Do you have a favorite non-toxic concoction to share that works at coloring Easter eggs?
References:
Aragon, B. (http://cincovidas.com/coloring-easter-eggs-ditch-the-chemical-food-colorings-and-try-these-toxin-free-alternatives)
Crunchy Domestic Goddess (http://crunchydomesticgoddess.com/2009/04/04/how-to-dye-easter-eggs-naturally-a-tutorial)
The Mommypotamus (http://www.mommypotamus.com/how-to-dye-easter-eggs-naturally-with-everyday-ingredients)