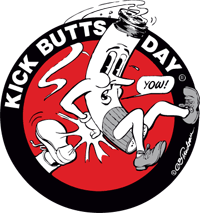 March 20 is Kick Butts Day. No, Billy Blanks will not be there telling you to kick higher, but this may be a good start to kicking big tobacco companies in the butt.
So what is Kick Butts Day? It is a day devoted to empower youth to stand out and speak up against big tobacco at more than 1,000 events across the United States and around the world.
The effects of tobacco are not only affecting those in the United States; it is a global epidemic affecting millions. The World Health Organization (WHO) reports that tobacco is the leading cause of preventable deaths. The greatest impact of tobacco is felt among low- and mid-income countries that have been targeted by big tobacco companies. China, Russia, the United States, Japan, and Indonesia are the top five countries to consume cigarettes.1
Globally, 100 million people in the 20th century have died because of the effects of tobacco. It is projected that approximately 8 million people will die worldwide by 2030, and that there will be a 1 billion person death rate in the 21st century if the current tobacco use remains steady.1
Annually, 6 million people die from the effects of tobacco, accounting for one out of 10 adult deaths. Worldwide, 80,000 to 100,000 youth become addicted to tobacco daily, with secondhand smoke being responsible for 600,000 worldwide deaths annually.1
In the United States alone, tobacco use is the leading cause of preventable deaths with over 400,000 people dying annually. From a financial standpoint, the tobacco costs add up to approximately $96 million in healthcare expenditures and $97 billion in lost productivity. The tobacco industry has been noted to spend approximately $8.5 billion dollars annually on marketing, which equates to approximately $23 million per day. There have also been reports of annual contributions to federal candidates, political parties, and PACS by the tobacco industry in the $1.5 million range, with annual congressional lobbying costs in 2010 in the $16.6 million range.1
Is your institution participating in any activities to help support Kick Butts Day?
References:
http://www.kickbuttsday.org