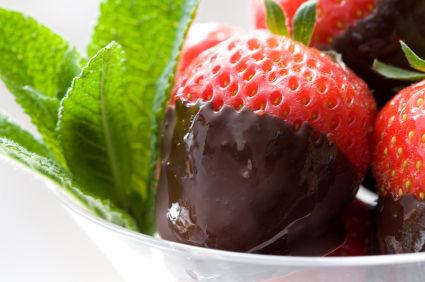 It is that time of year again when we spend endless amounts of money on cards, flowers, and candy for our sweeties. I tried for years not to give in to the hype, however, now that I have a child, I find myself giving in to temptation.
Buying themed plates and cups and staying up til all hours of the night hanging heart-shaped doilies on the doorways and walls! There is even a plan for "Cupid" a.k.a. "Mommy" to decorate my son's high chair and make heart-shaped pancakes on Valentine's Day. You may ask "Why?" when we have no time to even make a normal weekday dinner. Well, I have no idea, but if I don't I will feel like a horrible mother.
After the exhaustion sets in from planning the perfect Valentine's Day, you kick back and eat a box of chocolate-covered strawberries and consider it delicious, but now you can also reap the benefits of cancer prevention.
As I discussed in a prior blog, Dark Chocolate & Cancer Prevention, chocolate may in fact be good for you and in the process, prevent cancer.
Chocolate contains antioxidants in the form of flavonoids, which are responsible for fighting free radicals, removing heavy metals, and slowing the growth of artificially-induced cancers.1 Add strawberries to the mix and you have the most delicious, cancer-preventing snack on the planet.
Berries are noted to display anti-inflammatory, anti-proliferative, anti-metastatic, anti-angiogenic, and antioxidant properties. Anti-tumor agent ellagic acid is noted to have high concentrations in berries, such as strawberries, blackberries. and cranberries. In fact, there have been numerous studies led by Dr. Gary Stoner, PhD, evaluating black raspberries and strawberries on the prevention of GI tract malignancies. Rat studies revealed that the consumption of black raspberries decreased the risk of esophageal and colon cancers. Human trials are currently underway.2
Berries are known to harbor combinations of powerful phytochemicals, vitamins, and minerals, which researchers believe give them their preventative mechanisms. They also contain folic acid, calcium, and selenium, which are noted to protect against cancers of the colon, liver, esophagus, skin, and prostate.2
So this year, when you balk at the price of a $50 box of chocolate-covered strawberries for your sweetie, think of it as a gift of pure love and disease prevention. One more reason to eat these delicious treats!
References:
LiveStrong. What Are Anti-Cancer Benefits of Dark Chocolate? Available at http://www.livestrong.com/article/465878-what-are-anti-cancer-benefits-of-dark-chocolate/. Accessed on June 9, 2012.
Livestrong. Berries for cancer prevention. http://www.livestrong.com/article/10982-berries-cancer-prevention/. Accessed on January 21, 2013.