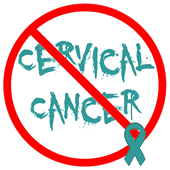 Happy New Year and happy Pap smear! Yep, I said Pap smear because January is cervical cancer awareness month.
In 2012, there were 12,170 new cases of cervical cancer diagnosed and 4,220 women died of the disease. These statistics are way too high given that 90 percent of cervical cancers are detectable via use of Pap smear and Human Papilloma Virus (HPV) testing.1
Pap smears are not performed in approximately 33 percent of women who meet the criteria to undergo testing. This may affect their prognosis at diagnosis as the presence of tumor volume/grade, histological type, lymphatic spread, and vascular invasion are all considered when staging cervical cancer.1
Approximately 90 percent of all cervical cancers are squamous cell in origin, with the remaining 10 percent representing adenocarcinomas. However, there are other histological sub-types including adenosquamous, small cell cancers, sarcomas and cervical lymphomas.1
Standard treatment options for those diagnosed with cervical cancer include a combination of surgery, radiation, and chemotherapy dependant on clinical presentation, stage at diagnosis, and the presence of other co-morbidities.
It is widely known that HPV is the most common cause of cervical cancer, and with more than 6 million US women being infected with the virus, the risk of cervical cancer is high.1 HPV is a group of over 150 viruses in which approximately 40 are spread during direct skin-to-skin contact during vaginal, anal, and oral intercourse.2
Low-risk HPV infections, most commonly numbers six and 11, are the cause of genital warts, whereas high-risk HPV is oncogenic. HPV 16 and 18 are oncogenic type infections and are responsible for most HPV related malignances.2 The presence of the viral infection far exceeds other cervical cancer risk factors, including high parity, increased number of sexual partners, early onset of sexual activity, socioeconomic status, and smoking.1
It is recommended by the US Preventive Services Task Force (USPSTF) that cervical cancer screening begin at age 21, however, it is important to use clinical judgment in high-risk women. Every three years, cytology alone is recommended for ages 21 though 29.3
Things change a bit from ages 30 to 65, as it is recommended that women undergo cytology alone every three years or both cytology and HPV testing every five years. After age 65, they do not recommend additional testing as long as these women have had adequate prior screening and are not at high risk of going on to develop cervical cancer.3
If a woman has undergone a hysterectomy, the USPSTF advises against screening if there has been removal of the cervix and they do not have a history of high-grade cervical pre-cancer or cervical cancer.3
Clinical judgment is warranted in all instances, therefore, individualized care should be considered when recommending examination frequency.
Now is a good time to schedule your annual GYN exam to see if you are due for a Pap examination!
References: