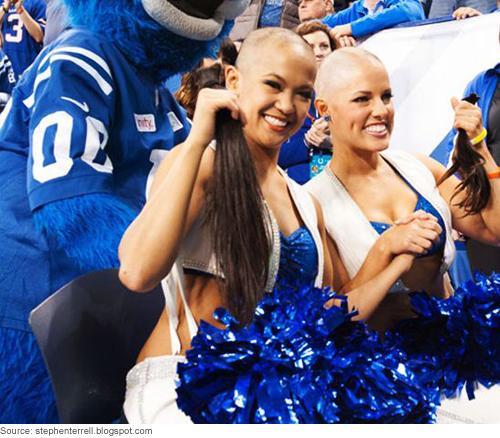 Would you shave your head in support of a friend or family member to raise money for a cancer cause? Well, if you ask two cheerleaders and a few dozen Colts football players, the answer is "yes."
In October, Melissa Scott wrote a blog on Chuck Pagano and his recent APL diagnosis. She discussed his course of standard treatment and cancer concerns facing the coach and his team. Pagano received overwhelming support, and even Blue, the team mascot, got involved.
Blue was challenged: If he was able to raise $10,000 by November 25, 2012, he could shave cheerleader Megan M's head at a November game. Blue outdid himself and raised over $22,000, recruiting yet another cheerleader who was up for the challenge. Crystal B, a leukemia survivor, joined Megan and they both went bald and beautiful!
This courageous act of support sparked interest with fans who themselves joined the effort. Local Great Clips salons decided to donate $10 for each head shaving, which resulted in more than 800 fans having their heads shaved for the cause.
The "ChuckStrong" campaign has raised more than $250,000 for leukemia research.
I know that if someone I loved was struggling with the thought of losing their hair during cancer treatment and shaving my head would make it easier for them... I would do it in a heartbeat! Kudos to Megan and Crystal and to all of the players and fans who have chosen to support their coach in such a personal yet public way.
Have you encountered this type of support for friends, family members, or cancer organizations in your personal or professional life? Would you do it?