We all love a yummy treat, and who doesn't love chocolate? I am a self-proclaimed chocoholic! I would incorporate chocolate into every meal if I could. Surprisingly, dark chocolate is noted to be the next best thing to the actual cocoa bean, and science proves it may offer protection against cancer.
Chocolate contains flavonoids, antioxidants that are also present in most fruits and vegetables.1 In my perfect world, chocolate would count on the food pyramid as a serving of fruits and vegetables! But seriously, flavonoids have a very serous job. They fight free radicals, remove heavy metals, and slow the growth of artificially induced cancers.1
Chocolate: to eat or not to eat?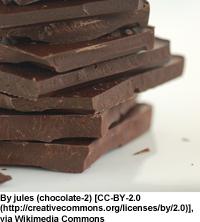 To date, there are no trials that show flavonoids actually fight cancer. Research conducted at Georgetown University discovered that pentameric procyaniding (a compound found in chocolate) caused a deactivation of certain proteins in the body, which ultimately stopped new tumor cell development. However, this study was apparently funded by a chocolate manufacturer, and the UK National Health Service has issued warnings against taking the findings seriously.
Current data supports the theory that dark chocolate and other foods rich in flavonoids may actually fight cancer. The Linus Pauling Institute conducted research in 2007 that revealed the human body sees flavonoids as foreign. In an attempt to rid itself of them, the body actually produces an enzyme responsible for fighting mutagens and carcinogens.
What are some of the other benefits of eating chocolate?2
Decreased risk of heart disease
Decreased risk of stroke
Decreased cholesterol levels
Blood pressure reduction
Improved vision
Mood booster
Life extension
If you are going to snack on chocolate, it is recommended that you consume dark chocolate with a high cocoa content (65 percent or higher) and low sugar content, and that you limit the quantity to approximately three ounces day.
References:
LiveStrong. What Are Anti-Cancer Benefits of Dark Chocolate? Available at http://www.livestrong.com/article/465878-what-are-anti-cancer-benefits-of-dark-chocolate/. Accessed on June 9, 2012.
Everyday Health. 10 Delicious Reasons to Eat Dark Chocolate. Available at http://www.everydayhealth.com/diet-and-nutrition-pictures/delicious-reasons-to-eat-dark-chocolate.aspx. Accessed on June 9, 2012.