I love waking up and looking out my window to see my lovely green lawn, which we have worked so hard to maintain over the past few weeks during the heat wave. But it prompted me to wonder, "What is actually making the grass so green?"
After some research, I realized that I am one of them; one of the 78 million US households using home and garden pesticides. An astonishing 90 million pounds of herbicides are applied to lawns and gardens each year, and suburban lawns and gardens undergo more pesticide treatments per acre than agriculture. My lawn is one of them. The lawn care industry is lucrative, with $9.3 billion sales of pesticides by chemical companies and $35 billion annual sales in the landscaping industry.
According to Beyond Pesticides, in 2004, a survey was conducted revealing that five million homeowners use organic lawn practices exclusively and 35 million use "toxic and non-toxic materials." I would have to say I fall into the second category; however, next summer I plan to be the 5,000,001st person using organic lawn practices.
It is known that of 30 regularly-utilized lawn pesticides:
13 are probable/possible carcinogens
13 are linked to birth defects
27 are sensitizers and or irritants
11 potentially disrupt endocrine system function
Pregnant women, infants, children, people with chronic illnesses, and the elderly are at the highest risk of complications from chemical exposure. Even low levels of exposure to pesticides can increase the risk of miscarriage, nervous system suppression, endocrine system suppression, and immune system suppression. There is also a seven-time risk of childhood leukemia development with pesticide exposure. Additionally, there is an increase in asthma, hyperactivity, developmental delays, behavioral disorders, and motor dysfunction, with children aged 6 to 11 having the highest levels of serum lawn chemicals.
Children's exposure doesn't stop once you bring them back into the home. Studies show children have levels of chemical exposure 10 times higher than pre-application after being exposed to the chemicals in the home from drift and track-in. Our children have a smaller body surface area than adults and are more vulnerable to the effects of toxic chemicals.
In fact, it is noted by the Academy of Sciences that 50 percent of lifetime exposure to pesticides takes place in the first five years of life. Disturbingly, it is discussed that pesticides are also transmitted via umbilical cord blood and breast milk. Most pesticides are also found in ground water, drinking water, lakes, and streams.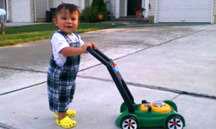 For bug control, I apply an organic spray in case my son wants to play in the yard. I feel safe knowing that he will not be covered in pesticide residue. Thankfully, we do not have issues with ants, roaches, beetles, or other bugs and do not use other sprays or traps of any kind. However, people around us use sprays as a preventative practice, which ultimately affects the air we breathe. No matter what you do to try and protect the health of your family, it ultimately comes down to the government and production companies to stand up for the welfare of our families and truly reevaluate the risks associated with these chemicals and find other solutions.
What are your thoughts on the potential risk of cancer? Does anyone practice organic lawn care, and can you provide more information for those who wish to protect their families?
For more information, please visit: