We are constantly hearing in the news that obesity raises your risk of heart disease and cardiac events, and while this is very true, would women be more conscious about diet and exercise if we also informed them that they are also at a higher risk of endometrial cancer?
Obesity at a glance
The CDC notes that of adults residing in the United States, more than one-third, or 35.7 percent, are obese. They go on to note that medical costs associated with obesity in 2008 were in the $147 billion bracket and that, as opposed to those with a normal body weight, the incurred medical costs paid by third-party payers were $1,429 higher for the obese population. Ethnicity and race seem to play a role in the development of obesity. 1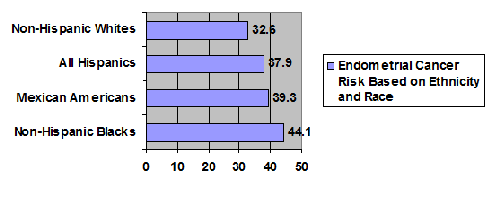 Endometrial cancer at a glance
In 2012, 47,130 women will be diagnosed with endometrial cancer and 8,010 will die.2 Endometrial cancer accounts for 6 percent of all cancers affecting women and is noted to be the most common gynecologic malignancy. 2 While there are many noted risk factors affecting the development of endometrial cancer, there is a noted two- to four-fold increase of endometrial cancer development in obese and overweight women. 3 This is regardless of menopausal status.3 It is noted that fat stores produce excessive estrogen3 and thus directly affect the lining of the uterus.
Signs and symptoms of endometrial cancer4

Post menopausal vaginal bleeding (present in 90 percent of women diagnosed with endometrial cancer)
Abnormal vaginal bleeding in a pre-menopausal women (intermenstrual bleeding, menorrhagia, longer duration of menses, etc.)
Abnormal vaginal discharge
Pelvic and/or back pain
Dysuria
Dyspareunia
With this in mind, do we do a good enough job as a community in discussing this with women, be it on the news or in the office? I have had several post-menopausal patients tell me they thought that their menses just "started up again" and they thought nothing of it. They did not want to discuss it with anyone, because it was a "personal/private issue."
Nurses and nurse practitioners play a pivotal role in the early detection and treatment of endometrial cancer. We are on the forefront, educating patients and listening for warning signs of early disease. It is imperative to question patients further when they disclose symptoms because, as with many cancers, early detection and treatment have the best outcome for the patient. Simply because the media are afraid to use the words vagina, cervix, ovary, or uterus or to discuss "female problems" does not mean we should be.
All too many times, I see women who say that they had been having symptoms for years but either ignored them or thought they were normal for their age. If they had been encouraged to speak openly with their provider or nurse, possibly the disease would have been caught earlier, perhaps without the need for post-surgical treatment.
References: