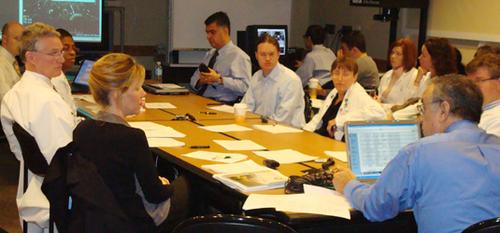 I wanted to share a new way to stay abreast in oncology -- tumor boards. I know, this is not anything new, but do you make time to attend tumor boards? I have always wanted to but at the place I worked previously, my workload and schedule did not allow for me to attend. However, now that I am working part-time, I have time!
The first one I attended was at the cancer institute I currently work for last fall. And I have been attending them ever since. This tumor board was incorporated in our annual oncology symposium and it was really neat. It composed of a panel of experts, photos, videos, and lively discussion. What we do in oncology is so complex and a multidisciplinary team is vital for successful treatment plans and patient outcomes.
I was sharing this revelation with a colleague of mine who is very busy with a small child at home and many workplace responsibilities. She didnít believe she could physically make it to a tumor board meeting. So you know what I did? I found some for her online! They were very current and free. They also offered a whole list of topics to choose from. She attended two online and loved it.
Not only do these tumor boards validate what we already know about cancer, but they also present recent or emerging data from current research and/or clinical trials. It is like watching a preview at a movie of what is to come in cancer treatment. Keeping current is so vital with the recent, never-ending changes and advances in cancer treatment that appear to be happening at such a fast pace.
Here are some of my favorite, free sites for tumor boards: Medscape, NCCN, and ASCO, all which are free but require registration.
So tell me, does your facility host tumor boards? If so, do you attend? Why or why not? And do you feel as though you learn something from them?