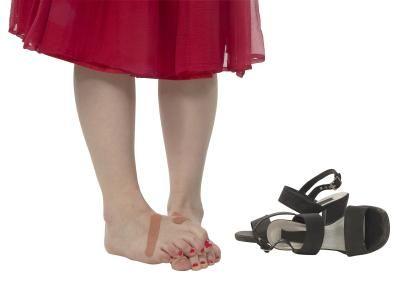 I once heard it said that empathy is like walking around in someone else's shoes, but you shouldn't get their blisters on your feet. Nurses can be really good at empathy. We are also really good at compassion. But there is a difference between the two.
Compassion is defined as "sympathetic consciousness of others' distress together with a desire to alleviate it." Empathy, on the other hand, is defined as "the action of understanding, being aware of, being sensitive to, and vicariously experiencing the feelings, thoughts, and experience of another." While many oncology nurses experience some compassion fatigue during the course of their careers, sometimes it's more than compassion fatigue. Sometimes we go beyond the desire to alleviate our patient's distress and we vicariously experience their problems. We take on too much. This is an especially slippery slope for nurse navigators. Our patients rely on us, and we have to be careful we aren't carrying empathy too far.
Patients need us. They need emotional support. They need help. Sometimes in our eagerness to help, we take over their problems and make them ours. It's important that we remember that no matter how much we help patients, they need to take some responsibility for themselves. We cannot get ulcers worrying about their noncompliance after we've done all we can to help them understand and achieve compliance.
I don't believe a person can be too compassionate. We should always have the desire to alleviate distress. But we can over empathize. We can stay awake at night worrying. Patients can come to us with a problem, and instead of providing them with resources to manage the problem, we take control of the problem and try to fix it.
Nurse navigators spend a lot of time helping patients with various levels of health competence get through cancer treatment. Some patients require more help than others. Sometimes, we have a whole lot of patients that need a whole lot of help. Somehow, all of that helping becomes something we can't stop. We spend excessive amounts of time "helping" when we should be helping patients start to help themselves. Then it carries over into our home lives, and we start managing everyone's problems.
Pretty soon we're limping on blisters that we've gotten from everyone else's shoes. I love shoes, I mean really love shoes. I probably have 40 pairs of shoes, mostly high heels in a dizzying array of colors and shapes. But here's the thing: No matter how uncomfortable my shoes might be, they are still more comfortable than someone else's because they are familiar. And if I get a blister, I earned it. Let's face it: Our own problems are like our own shoes. We deal with them, consequences and all.
Someone else's problems are just like borrowing someone else's shoes. They're never as comfortable, not as pretty, and certainly not familiar. Wearing another person's problems is like wearing someone else's orthopedic shoes: heavy, uncomfortable, and likely to cause sizeable blisters.
When your "feet" are hurting, maybe it's time to take stock of how you are managing your patients. Are you wearing their shoes? Or are you supporting them so that they can walk around on their own two feet?