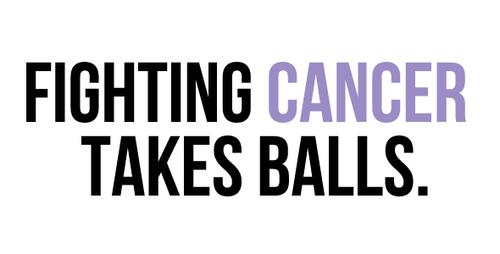 Itís April, and among the awareness topics this month are head, neck, and testicular cancers. Itís part of our job as healthcare professionals to take advantage of these opportunities to educate. As more and more young people are getting diagnosed with oral cancers from unhealthy behaviors, and because testicular cancer primarily affects younger men, this is a month when our education can be packaged to appeal to a younger audience.
Todayís youthful audience is less inhibited than ever before, but somehow, not much more educated when it comes to health prevention and maintenance. Confronted with how to tell young people about their cancer risk, I realized that while a young man may blush about testicular cancer, he will openly use slang terms for testicles without any inhibitions. In fact, I am beginning to wonder how many teen boys know what the word ďtesticleĒ means, given the laundry list of Urban Dictionary terms that they use instead.
Why not educate them at their level? Finding fun, interesting ways to teach seems like a good idea -- teach them in ways they understand by taking the learner into account.
Iím not the only one who sees the need to educate less medically and more practically. Websites such as iheartguts.com and the Testicular Cancer Awareness Project known as feelmyballs provide educational handouts that approach this touchy topic with less embarrassment and prudishness. And just in case you are in need of a gift for the holiday season, Bauballs may be just what you are looking for.
Unfortunately, most medical facilities frown on such open discussions, preferring to use the anatomically correct diagrams and terms that are no less graphic and far more boring than the above mentioned ideas. Why? Because this is medical education. This is how we define health information. If someone finds it offensive, we can justify it as medically necessary.
But is teaching a patient in the way that will make the most impact somehow not medically necessary? I understand that we want to carry ourselves in a professional manner and not be offensive; in fact, I'm quite the conservative person myself. However, I also think that regardless of my own inhibitions, not teaching people in a way that they can understand, relate to, engage in, and remember, is a huge disservice.
How will we as medical professionals ever impress upon young people the importance of doing screenings if we are in our lab coats, wire-framed glasses, with exam cards and plastic models of the human anatomy, regaling them with medical jargon? How can we tell young people about oral cancer caused by HPV and oral sex, or promote testicular self-exams, if we ourselves are too embarrassed to engage in these conversations or appear too conservative?
We generally don't hesitate to have end of life conversations, but when we have the opportunity for a life-saving conversation, we stop short.
In many ways, our healthcare system is progressing. We are slowly embracing technology, Facebook, and Twitter as a means to talk to patients. Still, if we are going to send the same old tired message, what is the good in using a new method of transmitting it?
Until we find a way to teach that gets past our own personal hang-ups, our progress will be halted -- people will be dying of cancer instead of embarrassment.