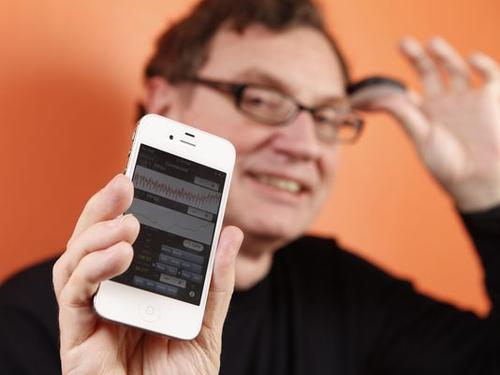 As a nurse, I am consistently searching for better, faster, more efficient ways to care for my patients. One of the most time-consuming tasks I do each day is the taking of vital signs.
For me, I have to attach a blood pressure cuff, find a thermometer and pulse ox machine, and then take the vital signs -- of course remembering to enter the data into the computer once complete. I perform this task for three to four patients three times a day, unless they are on vital signs hourly or every 15 minutes. Then itís many more times. There must be a better way!
What if there was a device that you could just touch to a patient's temple and voilà, within 10 seconds, it would give you all your vital signs and then send the information wirelessly to your smart phone. Impossible? "Not so," say the makers of Scanadu SCOUT.
The Scanadu SCOUT is a scanner packed with sensors capable of instantly reading your vital signs. A mobile app tracks all the data collected through the device -- offering a personal health-feed to monitor vital signs and identify patterns over time.
This kind of device may be beneficial for our cancer patients at home looking to monitor their vital signs quickly, especially in regards to temperature and blood pressure.
In addition to the SCOUT, the company has developed another home diagnostic device known as ScanaFlo. This disposable cartridge tool, which uses the smart phone as a urine-analysis reader, tests for complications during pregnancy, such as preeclampsia, along with kidney and urinary-tract infections.
Scanadu is currently working on a third project called ScanaFlu, another disposable cartridge, which will test saliva to assess for cold-like symptoms such as strep A, influenza A, influenza B, adenovirus, and RSV.
While these devices seem pretty innovative, I can't help but think about the accuracy of these devices, along with costs and FDA approvals.
Consumer testers were able to purchase the SCOUT at a cost of between $149 and $199 in hopes of offering information to the company it could submit to the FDA for approval. When testers received the products, they could partake in official clinical studies to gather the data the company needs, but only if they opted in.
Depending on the accuracy, hospital and clinics may benefit from a device such as this to be able to obtain vital signs quickly and in a more efficient manner.
If FDA approved, do you think patients will be more proactive at monitoring their vital signs while on certain medications, such as chemo or targeted therapies, or do you feel that patients will use this device as a replacement for following up with physicians?