My best friend was recently diagnosed with cancer. After worrying about survival, her next area of concern was hair loss. After a long discussion on hats and scarves, I went to the Internet to do research.
Some chemotherapy has long been known to cause hair loss. Along with pain, fatigue, and nausea, loss of hair is one of the biggest concerns of oncology patients. Growing hair back can take three to six months after the chemotherapy has been stopped.
Is there anything we can do to stop the hair loss or grow it back faster? What are the advances currently being made in the field of hair regrowth?
The gene KRT17 is the instruction manual for making keratin 17. Keratin is a tough, fibrous protein which makes up hair, nails, and skin. It's a key player in hair development.
Wnt are proteins which help in the development of normal hair follicles. Researchers trying to grow hair in scars have found that without the Wnt protein, scars did not grow hair. However, when given extra Wnt protein, scars grew hair. Too much of the protein could lead to cancer.
The University of California researchers have found a chemical compound which blocks the effects of stress (thought to be a factor in hair loss). After being treated with this compound for three months, bald mice grew full hair on their heads and back. Researchers at Johns Hopkins and the Kennedy Krieger Institute, after correcting a Hr (hairless) gene mutation, also grew hair on bald mice.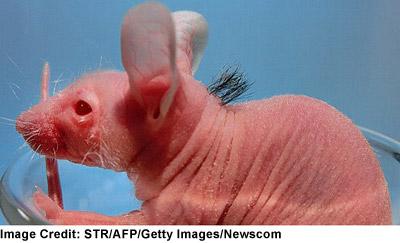 Scientists in Japan are also
growing hair on bald mice
. Using stems cells extracted from hair follicles of normal mice, they then implanted the cells into the skin of the bald mice. The hair began to grow in about two weeks. Scientist Takashi Tsuji has also been able to grow human hair on the bald mice.
Though all the research is promising, according to Dr. Tsuji, we are still ten years away from re-growing hair on human heads.