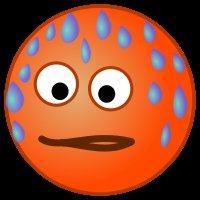 On the return trip from obtaining my mandatory morning coffee (extra large, no sugar), I decided to burn off some calories and walk the few flights of stairs that end immediately east of the outpatient clinic exam rooms. Once at the top (and in spite of my heavy breathing), my spidey sense went off! I detected an inordinate amount of frenetic energy around the clinic area. Being a known busybody, I decided to check it out.
"What's going on?" I inquired.
"We have a patient with a very high fever. Her pressure is dropping, and we're waiting for a transfer to your urgent care clinic." They recognized me as the NP from that clinic, and they asked if I could somehow hurry things along.
"Well, I can't do that, but I can assess your patient," I called over my shoulder as I entered the examination room. There I saw a very worried husband, a very worried resident, and a very confused patient who kept repeating, "So hot, so hot, so hot."
"Temps 41C [105F], pulse 116, and blood pressure dropping -- was 110/60 when she came in. Now it's 76/50!"
The nurses had already started an IV, taken a blood culture, and put on an O2 mask -- but my spidey sense told me that this woman was about to crash!
"Pour in that normal saline IV fluid," I said. "Also, start a second IV, and call the outreach team."
"Are you sure?" asked the resident.
"Yes!" said the nurses.
"Any allergies?" I asked.
"No!" said the nurses and husband in unison.
"Go grab a dose of Tazocin from pharmacy," I said as I watched my nursing colleagues move to take the second set of blood cultures that they knew from experience should be taken before the antibiotic was started.
"Are you sure?" asked the resident.
"Yes!" we all said in unison.
Three liters of saline and a dose of Tazocin later, our patient's blood pressure came back to a respectable 90/50, and her confusion seemed to subside. We decided to transfer her up to urgent care ourselves.
There the outreach team met us, took a brief history, and added a dose of Vancomycin to the mix. Her blood pressure started to drop again, so the outreach team took her to ICU for closer monitoring. There she slowly recovered from her very rare bacteremia, Stenotrophomonas maltophilia -- which, by the way, was resistant to Tazocin and Vancomycin. It's susceptable only to Septra.
Moral of the story
When treating sepsis, always:
Pour in the fluids.
Start broad spectrum antibiotics based on local patterns of bacteremia.
Call your outreach team early. Don't worry, they don't mind -- that's what they're there for.
Though we were wrong about the antibiotics, we did provide care based on well-established sepsis guidelines. With aggressive hydration and the help of the outreach team, we successfully treated our patient, despite the resistance of the bacteremia causing all of this.
Recognizing the symptoms of sepsis and the treatment guidelines is essential to reducing sepsis mortality rates. To learn more about sepsis, go to the Surviving Sepsis Campaign Webpage.