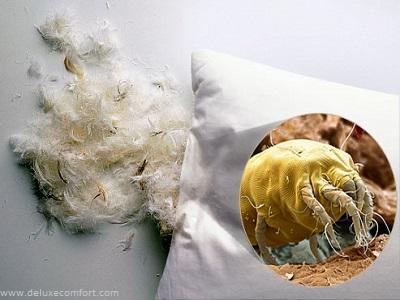 When was the last time you changed your bed pillow? I'm hoping your answer isn't "never," but if you can't remember when, it may be time for a change.
Just like sneakers, pillows should be replaced approximately every six months and definitely more frequently than every two years. This is different from the mattress you sleep on, which should be replaced every 5-10 years.
Besides the fact that pillows can break down just like mattresses, there is an ick factor that goes along with not changing your pillows. If you're using an old pillow, you might not sleeping alone -- many critters may be keeping you company in the middle of the night.
Dust mites, oil, dirt, and other debris build up in and on your pillow when you use it night after night. Even though you can't see them, more than likely the mites are there, because they feed on flakes of human skin that build up in your pillow. This may lead to facial acne issues and contribute to ongoing allergy problems. Are your allergies especially bad in the morning? If so, it may be the critters setting up shop in your pillow.
Fortunately, dust mites do not carry disease, but they do pose allergy and asthmatic risks.
Obviously, replacing your pillows often is the best way to avoid allergy and acne issues, but here are a few tips on extending the life of your pillow and reducing allergens:
Using pillow covers or protectors can help.
Washing the bedding (including pillows) and drying for 30 minutes on low can help clear away some of that debris.
Since dust mites love a warm, humid environment, you may want to keep your room cool and use a dehumidifier.
Replace your furnace filter every 1-3 months. Be sure to use a filter that does a good job at trapping allergens.
I hope this prompts you to change or clean your bed pillows often. Aside from the fact that an old pillow can cause skin and allergy issues -- it's just plain gross.
Good night.