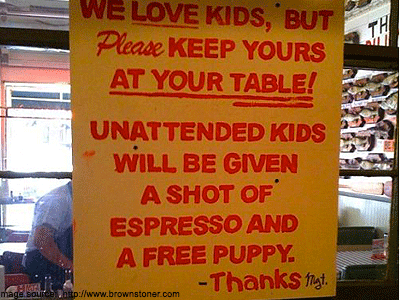 The weekend has finally arrived and perhaps you are looking to dine out this evening. While some patrons will being dining out with young children, others are requesting a side of quiet time.
The La Fisheria restaurant in Houston recently announced that they will be banning children ages eight and under from dining in their establishment after 7:00 p.m. in an attempt to appease all of their customers.
In an article on CNN.com, Restaurant chef Aquiles Chavez is quoted as saying:
We find children that are crying, some kids running under tables and our customers donít like. Seven oíclock is not a time for children, especially when we serve drinks and wine.
La Fisheria isn't the only one. McDain's in Monroeville, PA does not allow children under the age of six for a few reasons. According to restaurant owner Mike Vuick:
One is the increasing number of small babies that canít be controlled. They canít be quiet and really they canít be expected to. Kindergarten-age kids who have shown increasingly poor manners and parents who act like weíre the ones being offensive when restaurant staff ask them to quiet their children.
There are other restaurants that have jumped on the banning bandwagon, and then there are some that feel children need to learn how to properly behave when dining out. Bobby Marisi, owner of Vincent's Clam bar in New York, was quoted as saying:
We need to nurture children and teach them how to eat out and be in an environment thatís outside the home with family.
Banning children from restaurants may appeal to some, but in turn, may also drive customers away to restaurants such as Vincent's Clam Bar, where he welcomes children and even offers table games to keep them busy.
What are your thoughts on this? Do you consider children in restaurants to be a date night disaster, or an experience that children should share?