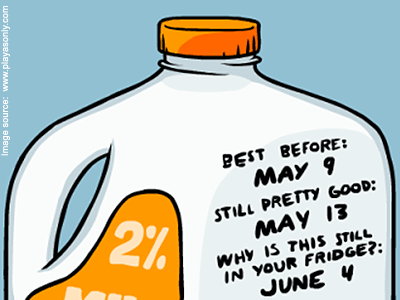 When it comes to food expiration dates, are you just as confused as I am?
Many consumers mistakenly waste food because they do not clearly understand the meaning of food expiration dates: "use by," "best by," and "sell by" dates.
Starting in the 1970s, as Americans produced less of their own food, they demanded information on the freshness of manufactured foods, mostly in regards to perishable foods such as high-moisture foods: milk, cheese, meats, poultry, vegetables, fruits, and nuts.
Most of the confusion lies within the "use by" and "sell by" dates as they are used so inconsistently that they contribute to widespread interpretation by consumers, leading to 90 percent of Americans throwing our food products prematurely. This could be avoided with proper food dating.
Let's start by demystifying the food expiration lingo:
"Use by" and "Best by": These dates are intended for consumer use, but are typically the date the manufacturer deems the product reaches peak freshness. It's not a date to indicate spoilage, nor does it necessarily signal that the food is no longer safe to eat.
"Sell by": Sell by dates are used for stocking purposes, so a retailer knows when to replace products with those that will have longer shelf lives in your home. Consumers, however, are misinterpreting it as a date to guide their buying decisions -- sell by dates should be made invisible to the consumer.
Let's take eggs for example. Eggs can be consumed three to five weeks after purchase, even though the "use by" date is much earlier. And milk is generally good for a week and half, maybe two weeks before spoiling. But if take a look at your milk carton, it probably has a "sell by" date on it which can be confusing. Aside from this date, your nose can never steer you wrong, so if it smells sour or if you notice curds in your cereal bowl, it's time to pour the milk down the drain... but you can still recycle the container.
In general, the temperature at which food is stored may be just as important as the date. Place a thermometer in your refrigerator and keep the space below 40 degrees Fahrenheit. And please remember to defrost food in the refrigerator to ensure it doesn't go bad -- a common mistake that many of us make is defrosting food on the kitchen counter.
While food items such as milk products and eggs are highly perishable, please remember that canned food can spoil as well. Non-perishable items such as canned foods are the "safest" and can last for as many as seven years -- some even longer. However, if the can is dented, especially at the top or bottom, there could be bacteria inside as this is a point where air could seep in. Also keep in mind, if a can appears bulging or bloated, this could mean that the canned food is spoiled because gas-producing bacteria are pushing out, hence the bulging appearance. And remember, if you notice rust on the can, air may have entered the can as well, leading to food spoilage.
So where does the regulation come in?
With food dating rules varying from state to state, food dating was never about public health -- there is no national regulation over the use of the dates. The only federally required and regulated food dating involves infant formula, since the nutrients in formula lose their potency as time goes on.
Results of this lack of regulation are confused consumers and lots of wasted food -- which is a shame in this economy.
Congresswoman Nita Lowey, the senior Democrat on the House Appropriations Committee and author of the Freshness Disclosure Act says she will be reintroducing legislation to Congress that calls for establishing a consistent food dating system in the United States.
While this may not seem like a big deal to some, adding up the monthly cost of food waste could be a real eye opener, not to mention a waste of resources.
So the next time you stand in front of your opened refrigerator chanting, "When in doubt, throw it out," please reconsider what you are throwing out. It may just end up being the best darn Greek yogurt you've ever had.
References: