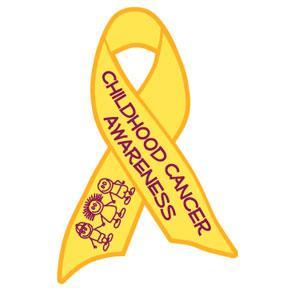 While we brace ourselves for the sea of pink that lies ahead in October for breast cancer awareness month, why not go for the gold during the month of September for childhood cancer awareness month?
Don't get me wrong, the breast cancer epidemic continues to affect the lives of millions of women all over the world, and without the increasing support, we may not be where we are today in regards to research funding and treatment. But have we become lopsided when it comes to support for pediatric versus adult cancers?
I recently came across an article on the Huffington Post regarding the lack of support for childhood cancers, and how disproportionate it is when compared to adult cancers.
When it comes to research support and therapies, childhood cancer may be lagging behind. So, I guess the million dollar question is: Why is this happening?
It seems as though when compared to adults, there have been very few drug treatment approvals for pediatric cancers, including targeted therapies. While some of the targeted therapy drugs have expanded into pediatric clinical trials, there are no therapies specifically developed for the pediatric population.
This may be due to the fact that approximately 4 percent of the National Cancer Institute and American Cancer Society's revenue is spent on childhood cancers. Considering that the average age for a pediatric cancer diagnosis is six, this is not enough when you take into account decades of life lost when these young children often end up succumbing to cancer.
As adults, we have some control over environmental factors such as smoking, sun exposure, and obesity, which may contribute to a cancer diagnosis, but what about the two-year-old who hasn't been exposed long enough to these environmental factors? What exactly is causing their cancer at such a young age? Are these children developing cancers due to the lifestyle of the parents? This is merely one example where additional research funding may be able to answer questions.
While survival rates for some adult cancers have increased, specifically in the areas of breast and colorectal cancers, childhood cancer rates have remained stagnate for decades. Again, this may be due in part to the lack of awareness resulting in less funding for research, alternative therapies, etc.
It's also important to remember that while adults and pediatrics alike are susceptible to dangerous side effects related to cancer treatment; children may be even more at risk due to their underdeveloped immune systems, not to mention the risk of developing secondary cancers as a result of chemotherapy and radiation treatment later on in life.
So, what can you do to help? Well, advocacy is a good place to start, along with charitable donations. But a word of caution when thinking about donating to a childhood cancer organization: Research the organization first, because some of these fraudulent charities are pocking more than what they are spending on those in need.
What is your organization doing to raise awareness for childhood cancer awareness month? Do you feel that the pediatric cancer population receives less support when compared to adults?