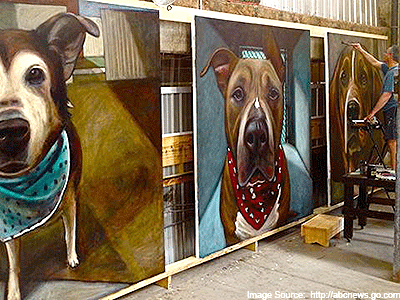 By now, I'm sure many of you have come to realize that I'm an avid animal lover, especially when it comes to dogs. So when I read this story about an artist painting portraits of hundreds of dogs residing in animal shelters, I thought it was going to be an uplifting readů I was wrong.
Artist Mark Barone has started on a mission to create thousands of beautifully hand-painted portraits reflecting various types of dogs. From boxers to retrievers to mutts, Barone's inspiration is derived not from his need to make a living, but all in an effort to help keep those dogs alive that are currently sitting on death row.
As some of you may be aware, thousands of dogs each day across the country are put to death in animal kill shelters for various reasons. Whether it's the fact that dog owners no longer want to care for the dog or runaway strays have no place to call home, many of them face the death penalty for mainly two reasons: money and space.
When you stop and think about it, it's difficult to fathom how many animals are actually dying each day in these shelters. So what does painting have to do with kill shelters? Money of course.
Barone had the idea that visual representation may bring people closer to the reality of what is actually taking place in these shelters daily, so he is painting with a purpose to help raise enough money to help support no-kill shelters.
Giving up his lucrative career as a consultant in Louisville and living on their savings, Barone and his partner have created a charitable exhibition know as An Act of Dog. By spreading the word through social media and displaying paintings to sell for a price of anywhere between $3,550 and $21,000, depending on the size, the money will go toward reducing his memorial painting display -- fewer portraits will mean fewer animal deaths.
While some may find these portrait prices a bit steep, Barone states that local resident tax dollars are oftentimes being spent to support animal kill shelters, money that could help support no-kill shelters instead or even education.
"It's taking me two years to paint what they kill in one day," says Barone, and that's a truth he hopes will prompt the public to demand alternatives to current policies.
Every morning, Barone downloads images from dogsindanger.com, which posts photos of dogs scheduled for euthanasia. And for the next 12 or 13 hours, he paints -- what some might say to be a wall of shame, but unfortunately it's a reality.