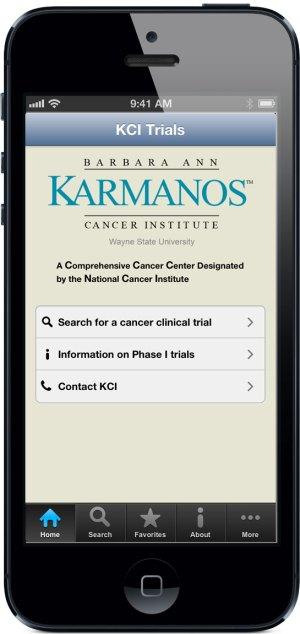 The Barbara Ann Karmanos Cancer Institute (KCI) in Detroit has taken a technological step in advancing cancer care by developing an app that can help many cancer patients and their oncology teams locate clinical trials best suited for their needs.
While the iphone and iPad KCI app was designed primarily for oncologists, patients and their families are also free to use the app as well to help find clinical cancer trials specific to their diagnosis.
This new app allows the user to search for clinical trials by keyword, disease site, protocol number, phase and/or principal investigator. Displayed trial information includes areas such as the objective, disease site, medications used, and inclusion/exclusion criteria.
In addition, the trials app also includes contact information such as phone numbers and email, so users have the opportunity to learn more about the availability of Phase I studies, along with having access to the National Cancer Institute.
Once a trial of interest is located, users have the option of saving the protocol information and emailing it if necessary to either a member of the cancer team or even to a patient.
"The ultimate goal is to make it as easy as possible for referring physicians and other health care professionals to find a clinical trial that may benefit their patients," said Anthony Shields, M.D., Karmanos' associate center director of clinical sciences.
This could make locating an appropriate cancer trial a more efficient process -- especially for those patients who are not responding well to standard cancer treatment.
The KCI app is available now on iTunes. For those of you who are Android users, hold tight, this version is expected to be available by early 2014.