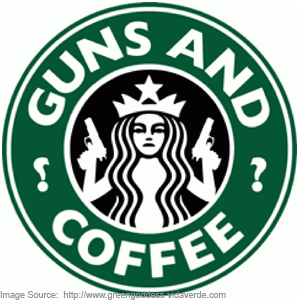 The next time you enter a Starbucks coffee shop, you may notice that patrons are loaded with their lattes -- and I don't mean from the caffeine.
In a recent news report from CNN, Starbucks is now allowing coffee shop customers to openly carry loaded weapons in the 43 states that currently allow this type of open gun policy.
As you can imagine, this is creating quite a frenzy among Starbucks customers, especially parents. They can't understand why a company would be willing to potentially put families and children in harm's way considering accidental shootings happen all the time, just like the one that occurred earlier this year when a woman's gun accidentally discharged when dropping her purse. This decision by Starbucks has led many moms across the nation to put customer safety first by starting a petition to ban guns from its stores.
Starbucks responded back by referring these moms to a 2010 statement on the company's website: "The political, policy and legal debates around these issues belong in the legislatures and courts, not in our stores." Zack Hutson, a spokesman for Starbucks claims that the company is merely trying to follow local laws:
In communities that permit open carry, we abide by local laws. Where these laws don't exist, openly carrying weapons in our stores is prohibited.
In addition, they also claim that banning weapons from its stores may put the employees at risk if an armed customer became violent, etc.
While Starbucks is firm on following local gun laws, other companies, such as AMC Theaters and Disney, have not decided to join the weapon bandwagon. They have, in fact, banned employees and customers from carrying weapons in order to keep everyone safe.
Due to the company's refusal to ban guns from its coffee shops, this has become a popular gathering site for pro-gun activists and rallies, which recently just occurred in South Dakota, where several patrons visited a Starbucks, carrying weapons, which included semi-automatic rifles and shotguns... I sure hope everyone ordered decaf there.
What some critics find interesting is that Starbucks just recently announced that customers who smoke would not be able to do so within 25 feet of any store but are supportive of openly carrying firearms, potentially leading to gun violence, which kills many children and adults each year.
How would you feel walking into a local Starbucks and seeing many of the patrons armed with a weapon? Would you feel safe or decide to take your business elsewhere... like an independent coffee shop?