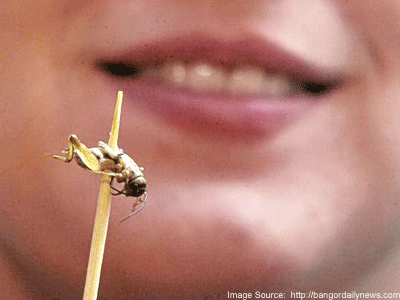 When I say "bug bites," I'm not referring to having a large spider crawl up your leg and leave its mark. I'm referring to having him for a snack.
Well, maybe not spiders, but what about crickets?
I recently came across a CNN Money article about a protein-packed energy bar made from -- you guessed it -- crickets. Now, before you curl up your lip and say, "Eww," there's a reason these critters have become so popular.
Many of us have heard of people eating chocolate-covered or deep-fried insects (because everything is supposed to taste better this way), but more companies are using additives such as cricket flour in their food products. Why? Insect products are high in protein, low in fat, good for the environment, and relatively inexpensive to make.
Most protein products containing meat are expensive when you factor in the costs of animal food, land, water, and processing. Crickets need very little water, can survive on agricultural byproducts such as corn husks, and require much less space than cattle or pigs. And -- let's face it -- the killing of farm animals has its own eww factor.
Unlike people in countries such as China and Mexico, many Americans still cringe at the very thought of eating something we typically lay to rest with a can of Raid. That may soon change; insect product sales are on the rise.
Another reason to think about insect ingestion: This may be a protein alternative for those who have nut allergies, are lactose intolerant, and/or do not consume meat products.
Still not sold? Well, remember that the FDA allows a very small amount of insect fragments in many of your food and beverage products. The agency says that it's unavoidable and presents no health hazard for human consumption. If you're insisting that you will never eat insects, it's too late. You've already started.