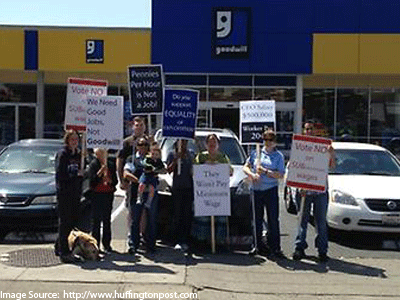 Many of us are familiar with Goodwill Industries, a non-for-profit organization that provides job training and employment for individuals with disabilities.
This non-profit company generates funding through sales from numerous retail thrift stores all around the world. Sounds like a win-win for both the employees and the consumers, right? Well, a 75-year-old-legal loophole is leaving some employees feeling like second-class citizens.
According to a recent NBC News Investigations report, this well-known charity has made its way into the spotlight for paying their disabled workers as little as 22 cents per hour, which of course is far less than the minimum wage amount. So how are they getting away with this? A federal law known as Section 14 (c) of the Fair Labor Standards Act passed in 1938 allows employers to obtain special minimum wage certificates from the Department of Labor. In other words, this means that employers can pay a disabled worker as little or as much as they choose.
While many of these employees are making less than the minimum wage, Goodwill executives are pocketing six-figure salaries.
"If they really do pay the CEO of Goodwill three-quarters of a million dollars, they certainly can pay me more than they're paying," said Harold Leigland, who is legally blind, a former massage therapist with a college degree and a US Goodwill employee. Leigland's wife, a former Goodwill employee, feels as if this is a civil rights issue and employees are made to feel like second-class citizens.
While many critics claim this to be exploitation, leaving many disabled, hardworking citizens feeling trapped with few employment opportunities, supporters of the labor law loophole claim that without it, disabled workers would have few options to perform meaningful work and receive an income at the same time, possibly even forcing the disabled to stay at home and become unproductive.
It is important to note that while Goodwill's integrity has been questioned, thousands of other disabled workers are currently employed at for-profit businesses such as restaurants, retail stores, or even government agencies -- all eligible to receive less than minimum wage according to the Section 14 (c) law; although some do earn the full minimum wage pay.
So how are employers such as Goodwill determining an "appropriate" wage for its employees? Wages are based on what is known as time studies. Staff members use a stopwatch to determine how long it takes a disabled worker to complete a task in comparison to how long it would take a person without a disability to do the same task. The employer then uses a formula to calculate an hourly rate, which may be less or equal to the minimum wage. The tests are repeated every six months and an employee's hourly rate may increase or decrease according to how well they perform on their required task at that time.
A new bill has recently been put forth before Congress, which if passed, would repeal the Section 14 (c) law and make below minimum wage pay illegal for all businesses.
I'm sure many people out there in the medical profession have some sort of disability that may prevent them from lifting a patient, performing surgery, or typing on a computer, but does that mean we should receive a decrease in pay, or worse, less than minimum wage? Do we value those employees with disabilities less when compared to other employees?