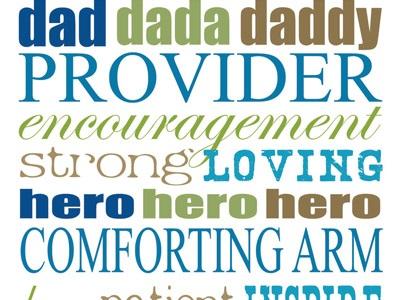 As many of you know, Father's Day is this Sunday, June 16, and while many of you may be celebrating with dad by firing up the grill and participating in family gatherings, others may be taking a moment out to honor and celebrate dad's legacy. Regardless, it is a time to remember and appreciate all the things that dad has done for us over the years.
Which leads me to the question: What life lessons have you learned from Dad? In other words, what has he taught you (good or bad)?
Let's face it, not everyone has had the greatest relationship with their parents. It happens, and if this is the case, hopefully, you were able to take a not-so-great relationship or situation and turn it into something positive (I've been there myself).
Let's also not forget about the father figures in our lives: step-parents, uncles, in-laws, friends of the family, etc. Some may believe that involvement in a child's life, guidance, and father-like characteristics are just as important as biology.
So, I would like to hear from you. How will you celebrate dad this coming weekend? Also, what do you feel are the top three lessons you have learned over the years that you carry with you as a professional, a parent, or have influenced you to be the person you are today?
Here are my top three:
Introduced to culture outside of the US at a very young age -- my father is from Italy
Perseverance -- go after what you want and don't let people knock you down (maybe having a vowel at the end of my last name helped with this)
Affection -- I'm sure culture plays a big part in this because the other side of my family appears squeamish when you come at them with open arms
What are your top three lessons?