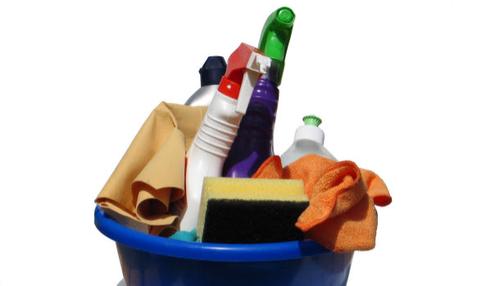 After a long hard day at work or taking care of the children, the last thing any of us wants to do is house chores -- do you often find yourself in a heated debate over who does what? If so, you're not alone.
Now, if you do live alone, you only have yourself to blame for unfinished chores, but for those of you that have a spouse, partner, or children, you probably find yourself frequently arguing about who did the dishes last, the piles of dirty laundry on the floor, or the germ party that's probably taking place in your bathroom as we speak.
So, why does this continue to be an ongoing battle in so many households? Well, I think the biggest issue is that for couples of the opposite sex, many women seem to feel that they absorb most the burden when it comes to chores around the house. Do you find this to be true, or are some of these women just being obsessive, compulsive, and controlling?
Well, if that's not the case, it may just be the fact that some still dwell in a time capsule from the 1950s and household chores are still looked upon as gender specific -- the men cut the grass and the woman take care of all the rest. If this happens to be your point of view, please do not reveal your identity to me or else I will send you back to where you came from -- outer space.
OK, so if spouses and partners are not the issue, maybe it's the children who refuse to clean up after themselves... or your 40-year-old son who refuses to move out. If this is the case, here are a few cleaning tips that will apply to all involved:
Assign chores appropriately -- having your six-year-old daughter cut the grass may not be the best decision. Have her clean up her room on a regular basis and put away the ice cream when she's done with it so it doesn't melt all over your brand new laptop.
Try to avoid nagging -- especially towards men, because all they are doing is mocking you behind your back and telling you how much you remind them of their mother.
And ladies, if you're the one refusing to clean, remember that it can burn lots of calories.
Get the family involved -- try to make it fun and even a competition and come up with a reward, weekly or monthly. And for those tech-savvy folks who love playing games, here is a website for you -- Chore Wars.
Families are happier when the household chores are shared. It can minimize resentment and friction, and it's a necessary part of life.
Do you feel as if you are the main housekeeper within your own home? What tips can you share to help get people off of the couch and into the cleaning supplies?