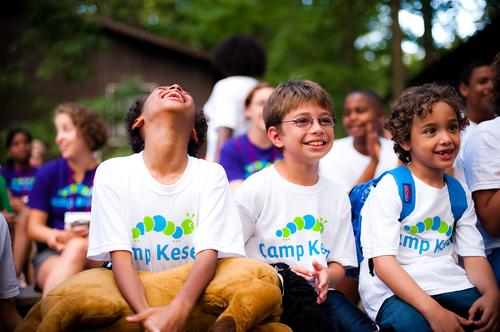 While many college students are looking forward to spending the upcoming summer break with family and friends, some are deciding to dedicate their time to helping kids whose parents have cancer.
There are thousands of adults each year diagnosed with cancer, and many of these adults are parents of young children. While there are many support groups to help adults cope with cancer, what about the children? Oftentimes, children of adult cancer patients are left to deal with the tragedy on their own, and are, in turn, missing out on the simple joys of being a child -- this is where Camp Kesem comes into play.
Since 2000, Camp Kesem has given children the opportunity to just be kids for a fun-filled week of sports, arts, and crafts, along with allowing children to talk with fellow campers and camp counselors about their hopes and fears about cancer.
This free, fun-filled getaway is not only beneficial for the children, it's also a way to empower college students to help make a difference in a child's life while building invaluable leadership and communication skills by managing all aspects of their local program.
While college students volunteer a great deal of their time participating in fundraisers and offering a week of friendship and support to kids in need, Camp Kesem wouldn't be possible without the help of charitable donation from businesses and college campuses all around.
Currently, there are 41 college chapters in 24 different states, thanks to the help of the Livestrong Foundation along with Chase Community Giving and many other generous sponsors, but you don't have to be a corporation in order to donate. Camp Kesem accepts monetary donations in any amount along with items from their wish list such as craft supplies, children's clothing, sporting equipment, and more.
Not only is this a great way for children to have fun, over 85 percent of survey respondents reported a significant impact on the child's self-esteem, coping, and confidence.
This seems to be a fantastic program for kids, but I would like to hear from you: Are you aware of any children that have attended Camp Kesem? After reading this, would you refer cancer patients with younger children to this program?