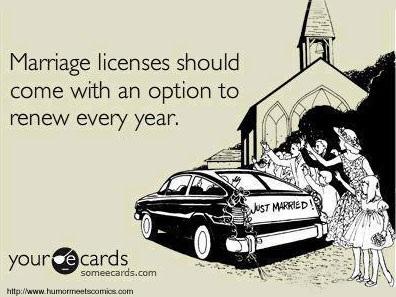 Yes, I just asked if we should be required to renew our marriage licenses on a regular basis, just as we do with other forms of licensure -- how about every five years?
As far as I know, a marriage license is the only license that doesn't expire over time but can be terminated, just like a vehicle end-of-lease agreement. If your car has excess mileage, excess wear and tear, or just doesn't make you excited to drive it anymore, more than likely you will turn it into the dealer rather than purchasing it at the end of the agreement -- maybe we should be taking a look at the Blue Book value of our own relationship after so many years rather than letting it depreciate in value. Let's face it, once the damage is done, it's difficult to repair and may eventually need to be replaced.
So regardless of whether we are talking about cars or marriage, both require maintenance along the way. Is marriage license renewal the answer?
In most states, eye examinations are required every few years in order to renew our driver's licenses, and continuing education credits are necessary for nursing license renewal, so why shouldn't couples be required to stand in front of a judge and state why it is their marriage should continue, and why they want to renew it? If something like this was actually implemented, think about all of the divorce attorneys standing in the unemployment line.
When we sign a marriage contract, are we prepared for a lifelong commitment, or do we eventually wish the relationship had an expiration date similar to the one stamped on a carton of milk?
I know this is a far-fetched idea, one that more than likely will never be implemented, but think about if it was. Would we stop taking our partners for granted, think twice about "letting ourselves go," or most importantly, make effective communication a top priority?
I am hardly the one to offer good marriage advice, but I will say that if I was facing an expiration date with my own marriage license, it may be just the push I would need to do whatever I had to do to ensure another five years of marriage. Otherwise, making the choice to remain in an unhealthy marriage and patiently waiting for each other to expire is not the best way for couples to show their commitment to one another.